Main info
Identifier:

HO110 NHL

Sponsor:

HOVON

Working group party:

Lymphoma

Age:

>= 18

Stage:

2nd Line

Echelon:

Level C-HIC&C-SCT

Included patients:

Active sites:

Title:

ReBeL study: a randomized phase I/II trial of lenalidomide and rituximab with or without bendamustine in patients ≥ 18 years with relapsed follicular lymphoma A HOVON/GLSG/NCRI study.
Timeline
2011
27 May
Submission in Progress
2019
01 Apr
ClosedForInclusionActualStart
News
09JUL2019
Patient inclusion has been stopped.
Rituximab biosimilars can be used in this study.
16MAR2018
If you are planning to register a patient, it is advised to inform your hospital pharmacy (in order to have Bendamustine available in time).
25 May 2018 - Updated documents
Er is een nieuwe versie CRFs (versie 10, 26MAR2018). Vanaf heden graag deze versie gebruiken voor ALLE patiënten.
27OCT2014
Fase II documenten zijn op de website geplaatst. Deze documenten zijn per e-mail naar de deelnemende ziekenhuizen gestuurd.
23OCT2014
Updated documents:
22NOV2011: Updated documents
Er is een nieuwe versie CRFs (versie 5, 22NOV2012). Vanaf heden graag alleen deze versie gebruiken voor ALLE patienten.
Ook het Serious Adverse Event report form is gewijzigd. Vanaf vandaag graag alleen deze nieuwe versie (verie 3, 22NOV2012) gebruiken.
Flow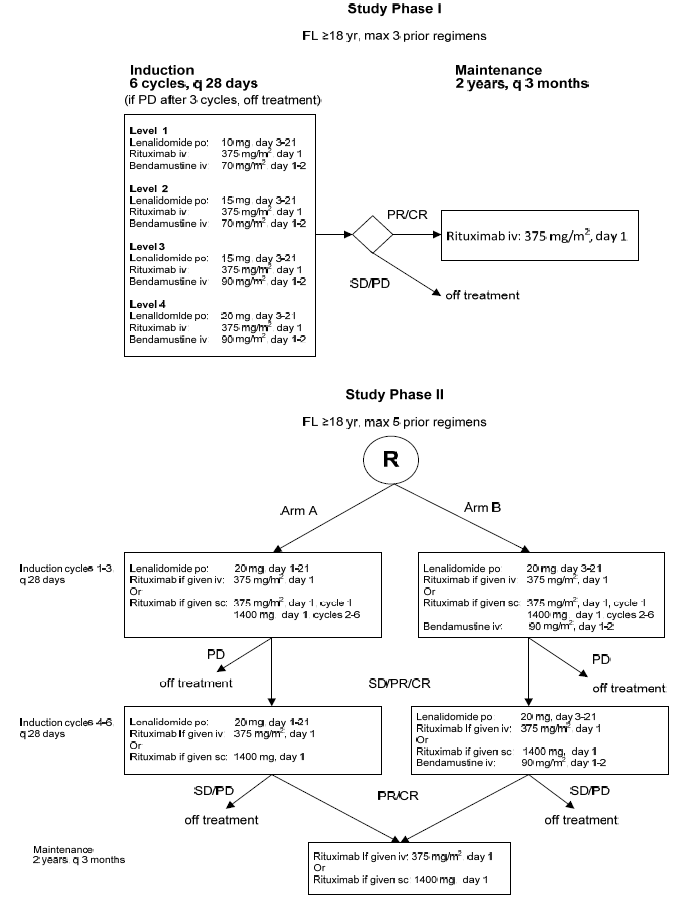 Details
Phase:

Prospective randomized Phase I/II study

Monitoring Type:

Site Evaluation Visit

Objectives:

For the phase I part of the study:

To determine the feasibility and recommended dose level (RDL) of the combination of lenalidomide, rituximab, and bendamustine in a 28 day schedule.

For the phase II part of the study:

To study the efficacy and toxicity of the two arms of the study (LR: lenalidomide and rituximab, and LRB: lenalidomide, rituximab, and bendamustine) in patients with relapsed follicular lymphoma, and to identify the most promising of these two treatment arms.
To determine the value of PET-CT scanning in response assessment of FL patients
To identify predictive factors for response. For this purpose, in the non-chemotherapy-based lenalidomide-rituximab regimen and in the chemotherapy-based lenalidomide-rituximab-bendamustine regimen, various tissue–associated markers will be explored both on tumor cells and on non-malignant cells of the tumor microenvironment using tissue microarrays or primary lymphoma biopsy samples. These studies will be supported by gene expression profiling in a selection of the patients. Results will be correlated to clinical outcome as well as PET-CT results and circulating subsets of T cells and NK cells. An exploratory analysis will be performed to identify putative covariates that might indicate which patient populations would benefit most from treatment with the non-chemotherapy-based lenalidomide-rituximab regimen or from the chemotherapy-based lenalidomide-rituximab-bendamustine regimen.
To specifically explore treatment-induced alterations in non-malignant immune cell populations. For this purpose, alterations during treatment in these populations in the peripheral blood and at the tissue level of involved lymph nodes will be performed. For the latter analysis sequential fine needle aspirations and biopsies will be performed in a selection of patients. The sequential biopsies will also be used to study the biological mechanisms of tumor cell kill.
Eligibility
Inclusion Criteria:

Relapsed FL grade 1, 2, 3a;
Ann Arbor stage II-IV at relapse;
A biopsy or FNA to show CD20 postivity is required. A biopsy/FNA performed at any time since the most recent therapy is acceptable as long as this shows FL and there is no clinical concern for transformation at the time of study entry. In case clinically transformation is suspected, a biopsy should be obtained at the time of study entry to exclude transformation;
A maximum of five prior systemic treatment regimens (patients who have had a prior allogeneic SCT are excluded; prior autologous SCT (if > 1 year ago) is allowed);
Prior bendamustine is allowed, under the following conditions:

Only one prior treatment (with a maximum of 6 cycles) with bendamustine is allowed
Patients must have had a PR or CR following prior use of bendamustine
Prior treatment with bendamustine must have taken place ≥24 months ago (measured from the start of prior bendamustine treatment, i.e. approximately 18 months from the end of prior bendamustine treatment)

Subjects must have an indication for treatment based on one or more of the following criteria:

**Involvement of at least 3 nodal sites, each with a diameter > 3 cm

Symptomatic splenomegaly

Bulky disease at study entry according to the GELF criteria, nodal or extranodal mass (except spleen) > 7 cm in its greatest diameter
B-symptoms (absence or presence of fever and/or night sweats and/or unexplained loss of 10% of body weight or more in the 6 months preceding diagnosis)
Hb < 10 g/dl (6.2 mmol/l) (if caused by bone marrow infiltration and not otherwise explained)
Thrombocytopenia: platelets < 100x109/l caused by bone marrow infiltration
Organ compression syndrome (e.g. hydronephrosis caused by lymphadenopathy)
Pleural/peritoneal effusion
Symptomatic extranodal manifestations;

Measurable disease as defined in appendix C (patients with only bone marrow involvement are therefore not eligible);
Age ≥ 18 years;
Able to adhere to the study visit schedule and other protocol requirements;
WHO performance status of 0-2;
Laboratory test results within these ranges: absolute neutrophil count ≥ 1.5x 109/l (unless bone marrow infiltration), platelet count ≥ 100x 109/l (unless bone marrow infiltration), creatinine clearance ≥ 50 ml/min, total bilirubin ≤ 30 µmol/l (1,75 mg/dl), AST & ALT ≤ 3x ULN;
Females of childbearing potential must have a negative serum or urine pregnancy test within 10 - 14 days prior to and again within 24 hours of starting lenalidomide treatment;
Patients must be willing and capable to use adequate contraception during and after the therapy (all men, all pre-menopausal women. Patients must be able to adhere to the requirements of the Lenalidomide Pregnancy Prevention Risk Management Plan;
Written informed consent

Exclusion Criteria:

Rituximab-refractory patients (definition: progression during or within 6 months after rituximab containing immunochemotherapy. Patients relapsing under rituximab maintenance treatment are eligible, if at biopsy or FNA CD20 positivity is confirmed);
Clinical or histologic signs of transformation. Patients with a prior transformed phase of FL are eligible IF there are currently no signs of transformation and there is histologic proof that the current phase is not transformed AND the transformed phase occurred >2 years ago;
Prior allogeneic SCT;
Prior autologous SCT less than one year ago;
Any prior use of an immunomodulatory agents such as lenalidomide, pomalidomide or CC-122;
Concurrent use of other anti-cancer agents or treatments;
The use of prednisolone for any other indication than lymphoma treatment is allowed at a maximum dose of or equivalent to 20 mg prednisolone;
Concurrent use of allopurinol, e.g. because of gout. Patients with gout are advised to switch to another anti-gout medication, because of the risk of Stevens-Johnson Syndrome observed in patients using bendamustine and allopurinol;
Use of any other experimental drug or therapy within 28 days of baseline;
Hepatitis B (including HBcAb) positive, Hepatitis C positive and/or HIV positive patients;
Patients with uncontrolled autoimmune hemolytic anemia (AIHA) or autoimmune thrombocytopenia (ITP);
Active fungal, bacterial, and/or viral infection;
Recent vaccination for yellow fever (within 4 weeks before registration);
Pregnant or breast-feeding females (lactating females must agree not to breast feed while taking lenalidomide);
Known hypersensitivity and/or serious adverse reactions to lenalidomide or similar drugs;
Intolerance of exogenous protein administration, or known allergy to murine products;
Uncontrolled hyperthyroidism or hypothyroidism;
Neuropathy ≥ grade 2 at time of inclusion;
Clinically symptomatic severe cardiac dysfunction (NYHA III-IV);
Clinically symptomatic severe pulmonary dysfunction;
Severe neurologic or psychiatric diseases;
Concurrent severe and/or uncontrolled medical condition (e.g. uncontrolled diabetes, infection);
History of active malignancy during the past 5 years with the exception of basal carcinoma of the skin, squamous cell carcinoma of the skin, carcinoma in situ of the cervix, carcinoma in situ of the breast, prostate cancer (TNM stage of T1a or T1b);
Any psychological, familial, sociological and geographical condition potentially hampering compliance with the study protocol and follow-up schedule
Registration Details
Eligible patients should be registered before start of treatment. Patients need to be registered at the HOVON Data Center by one of the following options:
Trial Online Process (TOP, https://www.hdc.hovon.nl/top). A logon to TOP can be requested at the HOVON Data Center for participants.
By faxing the completed registration/randomization CRF +31.10.7041028 Monday through Friday, from 09:00 to 17:00 CET
By phone +31.10.7041560 Monday through Friday, from 09:00 to 17:00 CET.
Patients for the phase I part of the trial can only be registered by phone or by fax.
Planned analysis for the coming 6 months: Interim analysis phase II (EHA-2020; Q1-2020)
Participating Sites
Ziekenhuizen die deelnemen aan het onderzoek staan benoemd op de HOVON website bij het onderzoek. Het kan zijn dat uw ziekenhuis niet genoemd wordt, maar wel aan het onderzoek deelneemt. Informeer hiernaar bij uw arts.
Site
50 results
Order by
Accrual rate
Activation date
NL-Dordrecht-ASZ
24 Aug 2012
NL-Amsterdam-VUMC
10 Feb 2012
NL-Alkmaar-NWZ
03 Jul 2012
NL-Rotterdam-MAASSTADZIEKENHUIS
10 Feb 2015
NL-Leiden-LUMC
27 Jan 2015
UK-Glasgow-BEATSON
30 Jan 2018
NL-Arnhem-RIJNSTATE
13 Apr 2012
NL-Rotterdam-ERASMUSMC
27 Apr 2012
NL-Amsterdam-AMC
25 Aug 2011
NL-Enschede-MST
05 Jul 2013
DE-Essen-UKESSEN
14 Aug 2015
UK-Manchester-CHRISTIE
25 Nov 2016
NL-Amersfoort-MEANDERMC
06 Jun 2012
NL-Nieuwegein-ANTONIUS
13 Dec 2012
UK-LIVERPOOL-ROYALLIV
26 Oct 2018
NL-Eindhoven-MAXIMAMC
04 Jun 2015
DE-Dresden-ONKOPRAXISDRESDEN
06 Aug 2015
DE-Dessau-KLINIKUMDESSAU
29 Sep 2015
NL-Hilversum-TERGOOI
12 Apr 2016
NL-Den Haag-HAGA
23 Nov 2015
NL-Utrecht-UMCUTRECHT
08 Apr 2014
NL-Hoofddorp-SPAARNEGASTHUIS
21 Jun 2012
DE-Tübingen-MEDUNITUEBINGEN
29 Apr 2014
UK-London-UCLH
25 Sep 2018
DE-Marburg-PHILIPPS
06 May 2014
DE-München-MEDUNIMUNCHIN
29 Oct 2013
DE-Mutlangen-STAUFERKLINIKUM
14 Jan 2014
DE-Stuttgart-RBK
15 Jul 2015
DE-Ulm-UNIKLINKULM
20 Aug 2015
NL-Leeuwarden-MCL
24 Mar 2015
NL-Gouda-GROENEHART
11 Feb 2015
NL-Sittard-Geleen-ZUYDERLAND
02 Jun 2015
NL-Groningen-UMCG
04 Oct 2012
DE-Bayreuth-KLINIKUMBAYREUTH
20 Nov 2015
NL-Den Bosch-JBZ
23 Jul 2013
NL-Delft-RDGG
01 Feb 2016
NL-Zwolle-ISALA
10 Dec 2012
UK-Norwich-NNUH
18 May 2018
NL-Tilburg-ETZ
08 Apr 2015
DE-Trier-MUTTERHAUS
06 May 2014
DE-Eschweiler-SAH
20 Dec 2013
DE-Offenbach am Main-ONKOLOGIEOFFENBACH
01 Sep 2015
DE-Amberg-STMARIEN
14 Aug 2015
DE-München-HERLACHING
24 Apr 2014
DE-Lebach-CARITASKHLEBACH
07 Feb 2014
DE-Idar-Oberstein-IOSHG
14 Aug 2015
UK-Wirral-ARROWEPARK
08 Jan 2019
= Active hospitals
= Inactive hospitals