Main info
Identifier:

HO112 MSC

Sponsor:

HOVON

Working group party:

SCT & Supportive care

Age:

Any age

Stage:

1st Line

Echelon:

Level A

Included patients:

Active sites:

Title:

Treatment of severe acute GVHD after allogeneic hematopoietic stem cell transplantation with steroids versus MSC and steroids.
A prospective double-blind placebo-controlled randomized phase III trial
News
01JUN2017:
Study is temporarily on hold for inclusion of new patients. More details will follow.
18MAY2015:
Amendment 02 implemented in NL
27MAY2014:
Study is open for inclusion in NL
New documents:
18MAY2015: The following documents are updated in relation to AM02 approval:

CA and EC approvals
Protocol (clean and tracked changes version + summary of changes)
ICFs (clean and tracked changes)

28JAN2015: GVHD scoring form for physician can be downloaded
Flow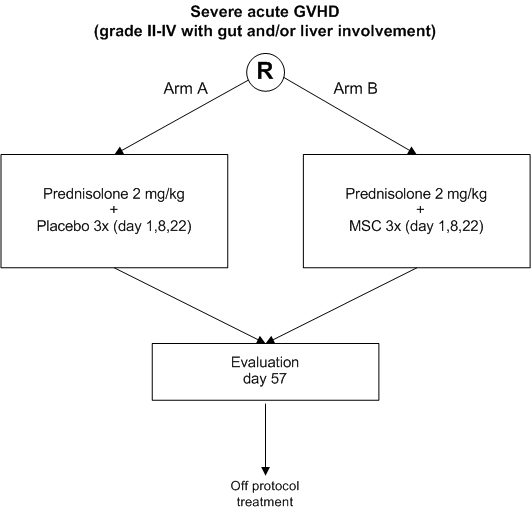 Details
Phase:

Prospective double-blind randomized phase III study

Monitoring Type:

Site Evaluation Visit

Objectives:

To improve the response rate to treatment of grade II-IV acute GVHD involving gut and/or liver by adding MSC to standard high dose prednisolone
To study the safety of the addition of MSC to standard treatment of severe acute GVHD as compared to standard treatment alone
To study quality of life
To study cost-effectiveness
To study the (immunological) phenotype before and after application of MSC/placebo of responders and non-responders in both groups at different sites (see protocol Appendix E and F)
To study the immunological genotype of responders and non-responders as well as donors in both groups (see protocol Appendix E and F)
To study the incidence of relapse of the underlying disease (e.g. hematological malignancy)
To study progression free survival (of the underlying disease)
To study overall survival
Eligibility
Inclusion Criteria:

Any age;
Previously treated with allo-SCT/ DLI;
Grade II-IV acute GVHD involving gut and/or liver according to protocol appendix A (confirmed by histology of involved tissues, however, the first infusion of MSC/placebo can be given without final histological confirmation);
WHO performance 0-3;
Negative pregnancy test (if applicable);
Patients must be willing and capable to use adequate contraception during therapy (if applicable) ;
Written Informed Consent by the patient and/or parent(s) or legal guardian(s).

Exclusion Criteria:

Patients with active, uncontrolled infection;
Rapid progressive hematological malignancy;
Patients pre-treated with prednisolone > 1 mg/kg for GVHD, for more than 72 hours prior to randomization/application of MSC/placebo;
Known uncontrolled toxicity for DMSO;
Concurrent severe and/or uncontrolled medical condition (e.g. uncontrolled diabetes, infection, hypertension, cancer, etc.)
Any psychological, familial, sociological and/or geographical condition potentially hampering compliance with the study protocol and follow-up schedule.
Registration Details
Eligible patients should be registered before start of treatment. Prior to randomization trial sites should contact the medical officer on call of the appropriate MSC/placebo production center to check that MSC are available.
Patients need to be registered at the HOVON Data Center by one of the following options:
By ALEA; Use goto eCRF button > select the [Patient tab] and click the [Add new patient] button. Complete all items and click the [Submit] button
By faxing the completed registration/randomization CRF +31 (0)10 704 1028 Monday through Friday, from 09:00 to 17:00 CET
By phone +31 (0)10 704 1560 Monday through Friday, from 09:00 to 17:00 CET
The first Interim Analysis will be performed after treatment of the first 66 patients.
Participating Sites
Ziekenhuizen die deelnemen aan het onderzoek staan benoemd op de HOVON website bij het onderzoek. Het kan zijn dat uw ziekenhuis niet genoemd wordt, maar wel aan het onderzoek deelneemt. Informeer hiernaar bij uw arts.
Site
2 results
Order by
Accrual rate
Activation date
NL-Utrecht-UMCUTRECHT
27 May 2014
NL-Amsterdam-VUMC
02 Sep 2015
= Active hospitals
= Inactive hospitals