Main info
Identifier:

HOVON 113 MSC

Sponsor:

HOVON

Working group party:

SCT & Supportive care

Age:

Any age

Stage:

2nd Line

Echelon:

Level A

Included patients:

Active sites:

Title:

Treatment of severe steroid-refractory acute GvHD with mesenchymal stromal cells.
A phase III randomized double-blind multi-center HOVON study.
Timeline
2019
01 Nov
ClosedForInclusionActualStart
News
As of November 1st, 2019 recruitment of the HOVON 113 MSC study has ended.
------------------------------------------------
An incorrect fax number was listed on the SAE form of the HOVON 113 MSC study.
The SAE form has been adapted and uploaded on the website.
Please discard any old versions you may have on your site and download the new version from this website.
Flow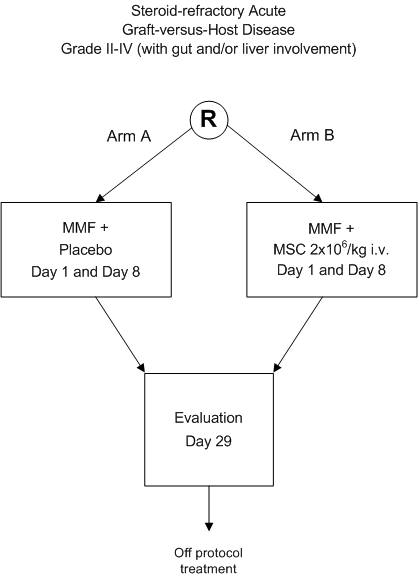 Details
Phase:

Select:

Monitoring Type:

Not any more

Objectives:

Primary objective

To improve the response rate to treatment of severe steroid-refractory acute GvHD grade IIIV (with gut and/or liver involvement) by early addition of MSC to standardized second line treatment.

Secondary objectives

To study the safety of MSC addition to standardized second line treatment
To assess the incidence of treatment-related mortality
To assess the overall survival
To assess the progression-free survival
To reduce the time required for continued pharmacological immune suppression
To assess the incidence of severe bacterial, viral and fungal infections
To assess the incidence and severity of chronic GvHD
To evaluate the quality of life of patients treated with MSC in comparison with controls up to two years after MSC treatment
To establish the economic impact of MSC for the treatment of severe steroid-refractory acute GvHD (with gut and/or liver involvement)
To develop a score by means of clinical and laboratory parameters that allows for identification of patients with severe acute GvHD that will respond on MSC treatment
Eligibility
Inclusion Criteria:

Grade II-IV acute GvHD with gut and/or liver involvement, confirmed by histology of involved tissues (in case of gut and liver involvement histology of either one of these tissues is considered sufficient); N.B. if the patient is otherwise eligible but histological confirmation at randomization is lacking, the principal investigator should be contacted.
Non-responsive to consecutive systemic treatment with steroids at a dose of 2 mg/kg and a calcineurin-inhibitor at therapeutic trough levels, defined as:

progressive disease or mixed response after 5-6 days of treatment.
stage 4 GvHD of gut and/or liver after 5-6 days treatment and:

significant deterioration of clinical parameters (gut) OR
increase of serum total bilirubin levels in umol/L (liver)
not attributable to other causes than acute GvHD

progressive disease after initial partial response of maximal 1 grade after 5-7 days of treatment
stable disease after 7 days of treatment

See appendix A for response criteria

Any age;
Lansky / Karnofsky score of ≥20;
Signed informed consent by the patient and/or parent(s) or legal guardian(s).

Exclusion Criteria:

Use of prophylactic MMF or Myfortic ≤ 6 days prior to development of acute GvHD ;

* Systemic treatment for acute GvHD other than steroids and a calcineurin inhibitor (budesonide is considered a local treatment);
* Pre-treatment with steroids ≥ 1 mg/kg for more than 3 days prior to initiation of steroids at a dose of 2 mg/kg for the treatment of acute GvHD;

Previous treatment with advanced therapy medicinal products (ATMP) potentially interfering with the endpoints of this study; N.B. if the patient has previously been treated with ATMP, the principal investigator should always be contacted prior to registration.

* Progressive or relapsing malignant disease in case of NHL, HL, CLL, MM, and ≥ 5% blasts in the bone marrow in case of AML, ALL, CML;
* Requiring ventilator or vasopressor support;
* Poor performance not expected to survive 14 days;
* Known seropositivity of HIV, Hepatitis B and C, HTLV;
* Known uncontrolled toxicity for DMSO;
* Known anaphylactic reaction to penicillin or streptomycin;
* Known pregnancy;
* Any psychological, familial, sociological and /or geographical condition potentially hampering compliance with the study protocol and follow-up schedule.

Discussions with the principal investigator regarding the eligibility of a patient should always be recorded in the source documentation.
Registration Details
Eligible patients should be registered and randomized before start of treatment.
Separate informed consent will be obtained for this pre-emptive collecting samples for immunological monitoring. Patients will only be randomized if they meet the eligibility criteria on day 5-10 following start of systemic steroid treatment.
Prior to randomization trial sites should contact the medical officer on call for the appropriate MSC/placebo production center to check that MSC are available (for the Netherlands: Immunohematology & Bloodtransfusion department of the LUMC +31.71.5269111, 24 hours a day).
Participating trial sites that obtain their trial MSC/placebo product from another MSC-producing site should make a similar check prior to registering a patient.
Patients need to be registered at the HOVON Data Center by one of the following options:
By ALEA; Use goto eCRF button > select the [Patient tab] and click the [Add new patient] button. Complete all items and click the [Submit] button
By faxing the completed registration/randomization CRF +31 (0)10 704 1028 Monday through Friday, from 09:00 to 17:00 CET
By phone +31 (0)10 704 1560 Monday through Friday, from 09:00 to 17:00 CET
Participating Sites
Ziekenhuizen die deelnemen aan het onderzoek staan benoemd op de HOVON website bij het onderzoek. Het kan zijn dat uw ziekenhuis niet genoemd wordt, maar wel aan het onderzoek deelneemt. Informeer hiernaar bij uw arts.
Site
12 results
Order by
Accrual rate
Activation date
NL-Leiden-LUMC
24 Dec 2013
DE-Leipzig-UNIKLINIKUMLEIPZIG
10 Aug 2015
ES-Salamanca-CASTILLAYLEON
06 Sep 2016
BE-Leuven-UZLEUVEN
29 May 2017
NL-Rotterdam-EMCDANIEL
05 Nov 2014
NL-Amsterdam-AMC
29 Oct 2014
NL-Zwolle-ISALA
06 Feb 2014
BE-Yvoir-MONTGODINNE
07 Dec 2018
SE-Stockholm-KAROLINSKASOLNA
NL-Amsterdam-VUMC
21 May 2015
= Active hospitals
= Inactive hospitals