Main info
Identifier:

HO117 ALL / UKALL 60+

Sponsor:

HOVON

Working group party:

Leukemia

Age:

>= 55

Stage:

1st Line

Echelon:

Limited Site Selection

Included patients:

Active sites:

Title:

A Phase 2 study for older adults with Acute Lymphoblastic Leukaemia
Timeline
2019
29 Oct
CloseoutInProgressLastPtOutActualStart
News
21 December 2018 - Overall closure of recruitment
27 January 2016 -Recruitment to the trial is suspended
Flow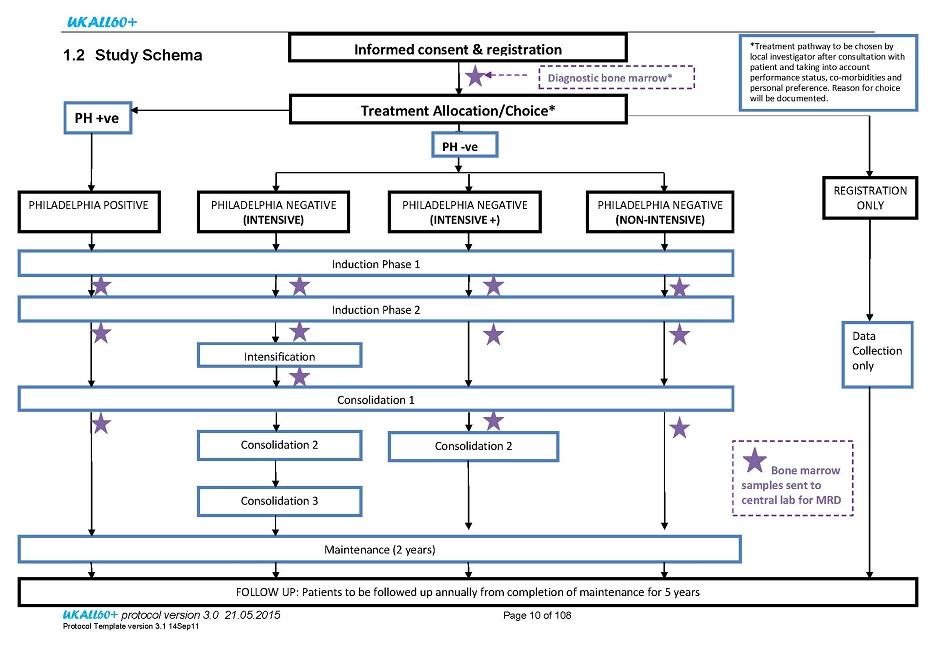 Details
Phase:

Prospective Phase II study

Monitoring Type:

Site Evaluation Visit

Objectives:

Primary objectives:

Complete remission rate after 2 phases of induction

Secondary objectives:

EFS at 1 year
Treatment related mortality
C+E62omplete remission rate after 1 phase of induction
Prognostic significance of molecularly determined minimal residual disease (MRD) at various time-points during therapy with respect to relapse occurrence.
Overall Survival at 1 year
Tolerability of treatment as determined by occurrence of key adverse effects
Duration of in-patient hospitalisation
Relationship between performance status/co-morbidity and treatment option chosen
Quality of life aspects assessed at various time points.
Eligibility
Inclusion Criteria:

Age ≥ 60 with Acute Lymphoblastic Leukaemia (ALL) OR ≥ 55 with Acute Lymphoblastic Leukaemia (ALL) unsuitable for the UKALL14 or HOVON 100 trial
Newly diagnosed, previously untreated ALL (a steroid pre-phase of 5-7 days may be given before study registration)
Written informed consent

Exclusion Criteria:

Known HIV infection
Blast transformation of CML
Mature B-cell leukaemia i.e. Burkitts disease t(8,14)(q24;q32) and variant c-myc translocations e.g. t(2;8)(p12;q24), t(8;22)(q24;q11)
Women who are pregnant or lactating
Registration Details
Patient registration will be undertaken centrally at UCL CTC and this must be performed prior to commencement of any study treatment/intervention. Patients may be given a steroid pre-phase of 5-7 days prior to study registration. This should be sufficient time to obtain confirmation of Philadelphia status.
Following pre-treatment evaluations (as detailed in section 5.1), confirmation of eligibility and consent of a patient at a site, the registration form must be fully completed and then faxed to UCL CTC. The faxed registration form will be used to confirm patient eligibility at UCL CTC.
A patient may be entered onto the registration only pathway of the study retrospectively at any point during their first phase of treatment. All efforts should still be made to send diagnostic samples to the MRD laboratory at UCL Cancer Institute for MRD analysis.
Participating Sites
Ziekenhuizen die deelnemen aan het onderzoek staan benoemd op de HOVON website bij het onderzoek. Het kan zijn dat uw ziekenhuis niet genoemd wordt, maar wel aan het onderzoek deelneemt. Informeer hiernaar bij uw arts.
Site
5 results
Order by
Accrual rate
Activation date
NL-Rotterdam-ERASMUSMC
19 Nov 2015
= Active hospitals
= Inactive hospitals