Main info
Identifier:

HO123 MM

Sponsor:

HOVON

Working group party:

Myeloma

Age:

>= 75

Stage:

1st Line

Echelon:

Level D

Included patients:

Active sites:

Title:

Feasibility and Efficacy of dose adjusted Melphalan – Prednisone – Bortezomib (MPV) in elderly patients ≥ 75 years of age with newly diagnosed Multiple Myeloma; a non-randomised phase II study
Timeline
2017
17 May
ClosedForInclusionActualStart
2022
09 Jun
CloseoutInProgressLastPtOutActualStart
News
25 August 2017: Protocol version 7 (9 august 2017) is active
2018: New link to eCRF: https://aleaclinical.com/hovon/dm/
Updated documents:
28-11-2017: New version of SAE report form and pregnancy form (notifications by mail instead of fax)
29-03-2016: New version of the flowsheet is available
15-jan-2016: ICF v6.1 and new insurance certificate are available
28-oct-2015: new 'Statement of Expenses' form is available
14-jul-2015: Protocol version 4 (22jan2015); Patient Information version 5 (18may2015) and Pre-Study Patient Information (15jun2015) are available
12-oct-2015: newsletter 8 is available
23-jan-2015: HOVON 123 MM eCRF and instructions are available
17-jun-2014: new TNT shipment instructions for bone marrow and blood
10-apr-2014: FAQ document is available
18-mar-2014: newsletter 4 & CT-scan shipment information form
20-feb-2014: QoL questionnaires (paper version) are available
11-dec-2013: Statement of Expenses form is available
11-dec-2013: Contactform & ITF labels are available
20-nov-2013: Updated version WMO certificate available
Flow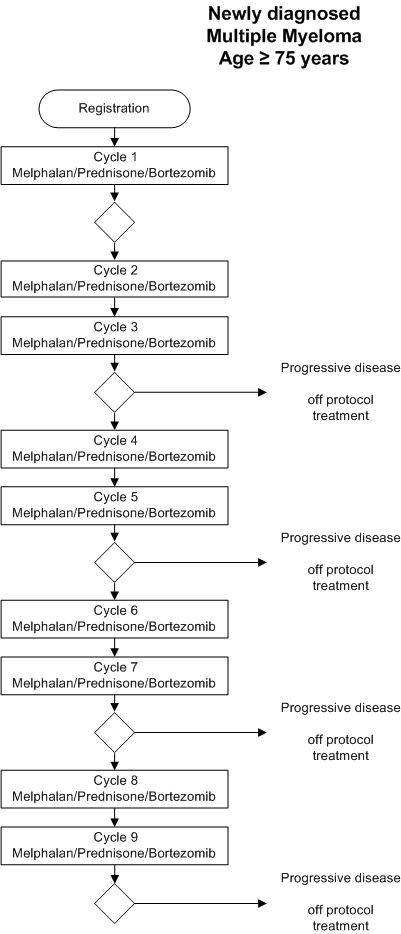 Details
Phase:

Prospective Phase II study

Monitoring Type:

Not any more

Objectives:

Primary objective

To assess the feasibility, defined as the discontinuation rate, of a dose-adapted MPV scheme in MM patients ≥ 75 years of age

Secondary objectives

To assess toxicity
To assess efficacy, defined as response rate, PFS and OS
To assess time to response
To assess the relative dose intensity of MPV
To assess the cumulative dose intensity of MPV
To assess the predictive value of geriatric assessments, biomarkers reflecting biological age and sarcopenia with respect to discontinuation rate, toxicity and efficacy
To assess Quality of Life
To analyze the value of polymorphism of genes involved in drug metabolism in predicting bortezomib-induced PNP
To assess the prognostic value of risk factors at diagnosis, including β2-microglobulin and chromosomal abnormalities
To analyze the prognostic value of myeloma gene expression profiles
Cost effectiveness analysis
Eligibility
Inclusion Criteria:

Previously untreated patients with a confirmed diagnosis of symptomatic multiple myeloma according to IMWG criteria (see appendix A)
Age ≥ 75 years
WHO performance status 0-3, WHO 4 performance status is allowed when related to MM (see appendix E)
Measurable disease as defined by the presence of M-protein in serum or urine and/or abnormal free light chain (FLC) ratio with involved FLC (see appendix A for definitions). (If plasmacytoma is the only measurable parameter, the patient is not allowed to be included in the study, because of difficult response evaluation).
Patient gives consent for extra bone marrow, blood and skin biopsy sampling
Written informed consent.

Exclusion Criteria:

Non-secretory MM
Systemic Amyloid Light-chain (AL) amyloidosis
Polyneuropathy, grade 1 with pain or grade ≥ 2
Severe cardiac dysfunction (NYHA classification IV, appendix F)
Severe pulmonary dysfunction defined as breathlessness at rest
Significant hepatic dysfunction (total bilirubin ≥ 30 μmol/l or transaminases ≥ 3 times normal level), unless related to MM
Renal insufficiency requiring dialysis
Patients with active, uncontrolled infections
Pre-treatment with cytostatic drug, immunomodulatory drugs (IMiDs) or proteasome inhibitors. Radiotherapy or a short course of steroids (e.g. 4 day treatment of dexamethasone 40 mg/day or equivalent) are allowed
Patients known to be Human Immunodeficiency Virus (HIV)-positive
Active malignancy other than MM requiring treatment or a malignancy that has been treated with chemotherapy currently affecting bone marrow capacity
Any psychological, familial, sociological and geographical condition potentially hampering compliance with the study protocol and follow-up schedule
Patients with plasma cell leukemia
Registration Details
Eligible patients should be registered before start of treatment. Patients need to be registered at the HOVON Data Center by one of the following options:
By ALEA; Use goto eCRF button > select the [Patient tab] and click the [Add new patient] button. Complete all items and click the [Submit] button
By faxing the completed registration/randomization CRF +31 (0)10 704 1028 Monday through Friday, from 09:00 to 17:00 CET
By phone +31 (0)10 704 1560 Monday through Friday, from 09:00 to 17:00 CET
The following information will be requested at registration:
Protocol number
Institution name
Name of caller/responsible investigator
Sex
Date of birth
Date written informed consent
Specific items patient gives consent for (see ICF)
Eligibility criteria
Participating Sites
Ziekenhuizen die deelnemen aan het onderzoek staan benoemd op de HOVON website bij het onderzoek. Het kan zijn dat uw ziekenhuis niet genoemd wordt, maar wel aan het onderzoek deelneemt. Informeer hiernaar bij uw arts.
Site
67 results
Order by
Accrual rate
Activation date
NL-Dordrecht-ASZ
30 Jan 2014
NL-Leeuwarden-MCL
03 Mar 2014
NL-Amstelveen-AMSTELLAND
01 Sep 2014
NL-Den Haag-HAGA
10 Apr 2014
NL-Amersfoort-MEANDERMC
31 Mar 2014
NL-Alkmaar-NWZ
08 May 2014
NL-Zutphen-GELREZUTPHEN
06 Feb 2014
NL-Schiedam-FRANCISCUSVLIETLAND
31 Mar 2014
NL-Gorinchem-BEATRIX
04 Aug 2014
NL-Sittard-Geleen-ZUYDERLAND
31 Mar 2014
NL-Harderwijk-STJANSDALHARDERWIJK
14 Apr 2014
NL-Venlo-VIECURI
10 Mar 2014
NL-Hilversum-TERGOOI
28 Apr 2014
NL-Arnhem-RIJNSTATE
26 Jan 2015
NL-Hoofddorp-SPAARNEGASTHUIS
31 Mar 2014
NL-Hoogeveen-TRENTBETHESDA
01 May 2014
NL-Roosendaal-BRAVIS
26 May 2014
NL-Rotterdam-MAASSTADZIEKENHUIS
31 Jul 2014
NL-Den Bosch-JBZ
23 Dec 2014
NL-Gouda-GROENEHART
15 Apr 2014
NL-Zaandam-ZAANSMC
19 Mar 2015
NL-Apeldoorn-GELREAPELDOORN
28 May 2015
NL-Deventer-DZ
30 Jun 2014
NL-Nieuwegein-ANTONIUS
05 Jun 2014
NL-Amsterdam-VUMC
04 Feb 2014
NL-Heerenveen-TJONGERSCHANS
15 Apr 2014
NL-Winterswijk-SKBWINTERSWIJK
24 Jun 2014
NL-Eindhoven-MAXIMAMC
02 Jun 2014
NL-Maastricht-MUMC
21 Jul 2014
NL-Tilburg-ETZ
19 May 2014
NL-Nijmegen-CWZ
10 Mar 2014
NL-Meppel-ISALADIACONESSEN
13 Mar 2014
NL-Rotterdam-ERASMUSMC
03 Jun 2014
NL-Amsterdam-SLAZLUCAS
04 Jun 2014
NL-Den Haag-HMCWESTEINDE
09 Oct 2014
NL-Beverwijk-RKZ
28 Jun 2016
NL-Purmerend-DIJKLANDERPURMEREND
12 May 2015
NL-Utrecht-UMCUTRECHT
25 Jun 2014
NL-Amsterdam-SLOTERVAART
20 Nov 2014
NL-Sneek-ANTONIUSSNEEK
21 Mar 2014
NL-Doetinchem-SLINGELAND
05 Feb 2014
NL-Helmond-ELKERLIEK
31 Mar 2014
NL-Enschede-MST
06 Oct 2014
NL-Haarlem-SPAARNEHAARLEM
31 Jul 2014
NL-Hoorn-DIJKLANDERHOORN
23 Apr 2015
NL-Almelo-ZGTALMELO
30 Oct 2014
NL-Groningen-UMCG
26 Mar 2015
NL-Drachten-NIJSMELLINGHE
NL-Delfzijl-OMMELANDERDELFZIJL
NL-Rotterdam-EMCDANIEL
03 Jun 2014
NL-Terneuzen-ZORGSAAM
22 Oct 2014
NL-Geldrop-STANNA
28 Feb 2014
NL-Hengelo-ZGTHENGELO
20 Aug 2014
NL-Dirksland-VANWEELBETHESDA
02 Sep 2014
NL-Almere-FLEVOZIEKENHUIS
NL-Den Haag-HMCBRONOVO
15 Jul 2014
NL-Groningen-MARTINI
28 Jul 2014
NL-Roermond-LZR
11 Feb 2015
NL-Rotterdam-IKAZIA
11 Nov 2014
NL-Woerden-ANTONIUSWOERDEN
= Active hospitals
= Inactive hospitals