Go to eCRF: EMN eCRF
Main info
Identifier:

HO129 PCL

Sponsor:

HOVON

Working group party:

Myeloma

Age:

>= 18

Stage:

1st Line

Echelon:

Level A

Included patients:

Active sites:

Title:

Carfilzomib and lenalidomide-based treatment for younger and elderly newly diagnosed primary plasma cell leukemia patients.
Timeline
2021
05 Aug
ClosedForInclusionActualStart
News
06-Aug-2021: the study is closed for inclusion since 05-Aug-2021.
Flow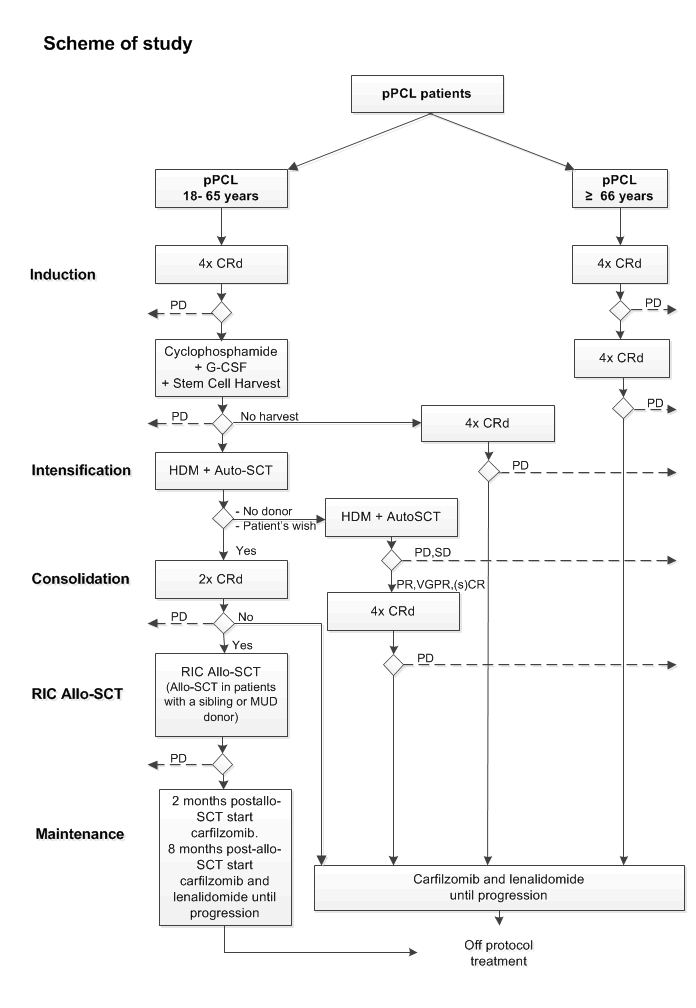 Details
Phase:

Prospective Phase II study

Monitoring Type:

Site Evaluation Visit

Objectives:

Primary Objective

To evaluate progression-free survival in adult pPCL patients by incorporation of carfilzomib and lenalidomide in induction, consolidation, and maintenance therapy

Secondary objectives

To assess overall response rate and (s)CR + VGPR ((stringent) complete and very good partial response) rate after induction therapy, after HDM, after CRd consolidation, after RIC allo-SCT or a second HDM, and during maintenance
To evaluate overall survival
To assess safety and toxicity
To assess the prognostic value of risk factors at diagnosis, including β2-microglobulin, LDH, FISH abnormalities del1p, ampli 1q, t(4;14), t(14;16), t(11;14), ampli 9, del13q/13-, del17p as analyzed in purified bone marrow plasma cells with respect to progression-free survival
To analyze the prognostic value of myeloma gene expression profiles
To analyze the prognostic value of minimal residual disease negativity
To assess the prognostic value of mutations as determined by sequencing
To establish the frequency of second primary malignancies
Eligibility
Inclusion Criteria:

Patients with diagnosis of symptomatic pPCL (see appendix A)
Measurable disease as defined by the presence of M-protein in serum or urine (serum Mprotein > 5 g/l or urine M-protein > 200 mg/24 hours or abnormal FLC ratio with involved free light chain (FLC) > 100 mg/l) or proven plasmacytoma by biopsy)
Age ≥18 years
WHO-performance status 0-3 (but WHO=3 is allowed only when caused by pPCL and not by co-morbid conditions)
Written informed consent
Patient capable of giving informed consent (patient is legally, physically and mentally capable of giving consent)
All men and women of childbearing potential should use highly effective contraception during the study. Men should be offered sperm banking before starting treatment (if applicable).
Negative pregnancy test at entry (if applicable)
Patient is willing and able to adhere to the requirements of the lenalidomide Pregnancy Prevention Program (PPP) throughout study treatment

Exclusion Criteria:

*Any current CNS involvement with disease refractory to intrathecal chemotherapy

Female patients who are pregnant or breast feeding
HIV positive patients
Active malignancy other than pPCL requiring treatment, or a malignancy that has been treated with chemotherapy currently affecting bone marrow capacity
Patients with active, uncontrolled infections
Severe neurological or psychiatric disease
Severe cardiac dysfunction (NYHA classification II-IV, see appendix E)

Myocardial infarction within 6 months
unstable angina
cardiac arrhythmias which are not controlled by conventional treatment (including medications and cardiac devices)

Severe pulmonary dysfunction
Significant hepatic dysfunction (serum bilirubin or transaminases ≥ 3.0 times normal level), unless related to pPCL
Patients with GFR < 15 ml/min
Known history of allergy to Capsidol (a cyclodextrin derivative used to solubilize carfilzomib)
Hypersensitivity to the active substances (carfilzomib, lenalidomide, and dexamethasone) or to any of the excipients of these drug products
Previous chemotherapy or radiotherapy except local radiotherapy in case of local myeloma progression or corticosteroids maximum 7 days for symptom control or stabilization (this includes dexamethasone 40 mg daily) or intrathecal chemotherapy in case of CNS involvement
Systemic AL amyloidosis
Any psychological, familial, sociological and geographical condition potentially hampering compliance with the study protocol and follow-up schedule
Registration Details
The patient should be registered immediately after diagnosis and before the start of protocol treatment.
Patients will be registered at EMN Research Italy by web http://www.emntg.org. Investigators who do not have an account yet should register at this website to obtain an account after consultation of HDC.
The following information will be requested at registration:
Protocol number
Institution name
Name of responsible investigator
Age on inclusion
Date of informed consent
Date of sample shipment (optional)
Date of diagnosis of pPCL
Criteria for measurable disease
Serum β2-microglobulin
Serum albumin
Eligibility criteria
For each of the two age groups, one interim analysis is planned, primarily to describe adverse events and response observed during induction therapy with CRd. This will be done when complete data of the first 15 registered patients (elderly and younger patients separately) regarding CRd cycles 1-4 are available.
Go to eCRF: EMN eCRF
Participating Sites
Ziekenhuizen die deelnemen aan het onderzoek staan benoemd op de HOVON website bij het onderzoek. Het kan zijn dat uw ziekenhuis niet genoemd wordt, maar wel aan het onderzoek deelneemt. Informeer hiernaar bij uw arts.
Site
25 results
Order by
Accrual rate
Activation date
NL-Amsterdam-VUMC
11 Sep 2015
NL-Utrecht-UMCUTRECHT
20 Sep 2016
NL-Groningen-UMCG
08 Dec 2016
IT-Torino-MOLINETTEG
07 Mar 2019
NO-Oslo-OSLOUH
19 Oct 2017
DK-Copenhagen-RIGSHOSPITALET
16 Feb 2017
NL-Rotterdam-ERASMUSMC
03 May 2016
BE-Antwerpen Edegem-UZA
14 Jan 2016
IT-Bologna-MALPHIGI
25 Apr 2019
UK-London-KCH
14 Dec 2020
DK-Odense-OUH
12 Jul 2017
DK-Aarhus N-AUH
20 Apr 2018
IT-Cuneo-CROCEECARLE
17 Sep 2018
BE-Liege-CHULIEGE
27 Mar 2018
IT-Ancona-UMBERTOA
12 Mar 2018
IT-Rionero in Vulture (Potenza)-IRCCSCROB
CZ-Brno-UHBRNO
04 Jul 2019
CZ-Ostrava-Poruba-FNO
20 Jun 2019
BE-Antwerpen-ZNASTUIVENBERG
19 Nov 2015
NO-Trondheim-STOLAV
14 Jan 2020
IT-Udine-POLICLINCOUDINE
17 Sep 2018
CZ-Hradec Kralove-FNHK
20 Jun 2019
IT-Roma-SAPIENZA
10 Jul 2018
IT-Bari-POLICLINICODIBARI
07 Jan 2021
BE-Brugge-AZBRUGGE
17 Aug 2017
= Active hospitals
= Inactive hospitals