Main info
Identifier:

HO131 MM / IFM 2015-01 (Cassiopeia)

Sponsor:

IFM

Working group party:

Myeloma

Age:

18-65

Stage:

1st Line

Echelon:

Limited Site Selection

Included patients:

Active sites:

Title:

Study of Daratumumab (JNJ-54767414 (HuMax® CD38) in Combination with Bortezomib (VELCADE), Thalidomide, and Dexamethasone (VTD) in the First Line Treatment of Transplant Eligible Subjects with Newly Diagnosed Multiple Myeloma.
Timeline
2017
01 Aug
ClosedForInclusionActualStart
Flow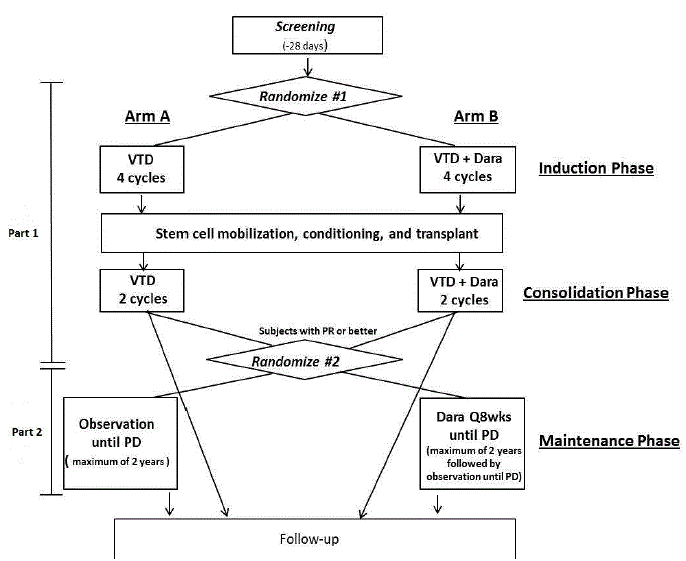 Details
Phase:

Prospective randomized Phase III study

Monitoring Type:

Study Specific

Objectives:
Participating Sites
Ziekenhuizen die deelnemen aan het onderzoek staan benoemd op de HOVON website bij het onderzoek. Het kan zijn dat uw ziekenhuis niet genoemd wordt, maar wel aan het onderzoek deelneemt. Informeer hiernaar bij uw arts.
Site
35 results
Order by
Accrual rate
Activation date
BE-Haine-Saint-Paul-JOLIMONT
07 Dec 2016
BE-Antwerpen-ZNASTUIVENBERG
BE-Brugge-AZBRUGGE
19 Jan 2016
NL-Rotterdam-MAASSTADZIEKENHUIS
BE-Turnhout-AZSTELISABETH
NL-Hoofddorp-SPAARNEGASTHUIS
= Active hospitals
= Inactive hospitals