Go to eCRF: MARVIN
Main info
Identifier:

HO133 MCL

Sponsor:

GCLLSG

Working group party:

Lymphoma

Age:

18-65

Stage:

1st Line

Echelon:

Level D

Included patients:

Active sites:

Title:

autologous Transplantation after a Rituximab/Ibrutinib/Ara-c containing iNduction in Generalized mantle cell Lymphoma – a randomized European mcl network trial.
Timeline
2016
01 Oct
Submission in Progress
2017
06 Apr
Submission in Progress
2020
30 Nov
ClosedForInclusionScheduledStart
2020
28 Dec
ClosedForInclusionActualStart
2030
30 Nov
CloseoutInProgressLastPtOutScheduledStart
News
28Dec2020:
Target recruitment (870 patients) is achieved so enrolment has been stopped. Already randomized patients will continue according to protocol.
21Oct2020:
Registration procedure is changed because 850 of 870 patients are included. From now on if you have a potential patient for the study, an email notification should be send to the sponsor in order to reserve a slot. Please see the instructions in the email send on 21st of October 2020.
18-Apr-2018:
Study documents regarding AM1 are uploaded on the HOVON website.
18-Oct-2017:
The first site in Belgium is opened for patient inclusion.
10-Oct-2017:
The first site in the Netherlands opened for patient inclusion.
26-Jul-2017:
HOVON Lymphoma working group has decided to implement the rituximab maintenance. Therefore, all Dutch HOVON sites should implement the maintenance (every 2 months up to 3 years) to all three study arms. Belgian sites will follow once the national reimbursement for rituximab is possible. Please also see the sent newsletters in the study documentation.
11-Jan-2017:
Start Up meeting for participating HOVON sites was held in Utrecht.
18-SEp-2015:
Participants Inquiry is sent to all HOVON sites. Planning is that study will first start in Germany (Q4 2015) after which HOVON will join with 25-30 sites in NL+BE.
Flow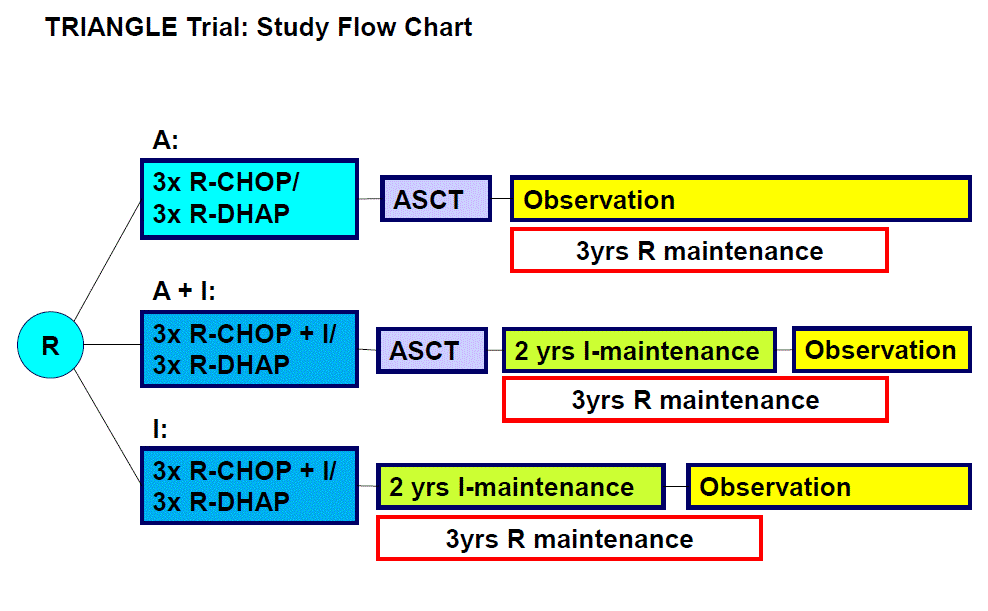 Details
Phase:

Prospective randomized Phase III study

Monitoring Type:

Study Specific

Objectives:

The primary objective of the trial is to establish one of three study arms, R-CHOP/R-DHAP followed by ASCT (control arm A), R-CHOP+ibrutinib /R-DHAP followed by ASCT and followed by ibrutinib maintenance (experimental arm A+I), and R-CHOP+ibrutinib /R-DHAP followed by ibrutinib maintenance (experimental arm I) as future standard based on the comparison of investigator-assessed failure-free survival (FFS).

Secondary objectives:

To compare the efficacy of the three treatment arms in terms of secondary efficacy endpoints
To determine the safety and tolerability of ibrutinib during induction immunochemotherapy and during maintenance and to compare the safety profile of the three treatment arms in terms of secondary toxicity endpoints

Exploratory Objectives:

To compare feasibility of ASCT in arm A+I vs. arm A
To compare minimal residual disease status between the three treatment groups
To determine the impact of ibrutinib during induction immuno-chemotherapy and during maintenance therapy on the minimal residual disease status
To determine the prognostic value of minimal residual disease status
To determine the prognostic value of positron emission tomography with fluorine 18-fluorodeoxyglucose
To determine clinical and biological prognostic and predictive factors
To determine the role of total body irradiation (TBI) in ASCT conditioning
Eligibility
Inclusion Criteria:

*Histologically confirmed diagnosis of MCL according to WHO classification

Suitable for high-dose treatment including high-dose Ara-C
Stage II-IV (Ann Arbor)
Age ≥ 18 years and ≤ 65 years
Previously untreated MCL
At least 1 measurable lesion; in case of bone marrow infiltration only, bone marrow aspiration and biopsy is mandatory for all staging evaluations.
ECOG/WHO performance status ≤ 2
The following laboratory values at screening (unless related to MCL):

Absolute neutrophil count (ANC) ≥1000 cells/µL
Platelets ≥100,000 cells/µL
Transaminases (AST and ALT) ≤3 x upper limit of normal (ULN)
Total bilirubin ≤2 x ULN unless due to known Morbus Meulengracht [Gilbert-Meulengracht-Syndrome])
Creatinine ≤2 mg/dL or calculated creatinine clearance ≥50 mL/min

Written informed consent form according to ICH/EU GCP and national regulations
Sexually active men and women of child-bearing potential must agree to use one of the highly effective contraceptive methods (combined oral contraceptives using two hormones, contraceptive implants, injectables, , intrauterine devices, sterilized partner) together with one of the barrier methods (latex condoms, diaphragms, contraceptive caps) while on study; this should be maintained for 90 days after the last dose of study drug and 12 months after the last dose of rituximab

Exclusion Criteria:

Major surgery within 4 weeks prior to randomization.
Requires anticoagulation with warfarin or equivalent vitamin K antagonists (e.g. phenprocoumon).
History of stroke or intracranial hemorrhage within 6 months prior to randomization.
Requires treatment with strong CYP3A4/5 inhibitors.
Any life-threatening illness, medical condition, or organ system dysfunction which, in the investigator's opinion, could compromise the subject's safety, interfere with the absorption or metabolism of ibrutinib capsules, or put the study outcomes at undue risk.
Vaccinated with live, attenuated vaccines within 4 weeks prior to randomization.
Known CNS involvement of MCL
Clinically significant hypersensitivity (e.g., anaphylactic or anaphylactoid reactions to the compound of ibrutinib itself or to the excipients in its formulation)
Known anti-murine antibody (HAMA) reactivity or known hypersensitivity to murine antibodies
Previous lymphoma therapy with radiation, cytostatic drugs, anti-CD20 antibody or interferon except prephase therapy outlined in this trial protocol
Serious concomitant disease interfering with a regular therapy according to the study protocol:

Cardiac (Clinically significant cardiovascular disease such as uncontrolled or symptomatic arrhythmias, congestive heart failure, or myocardial infarction within 6 months of Screening, or any Class 3 (moderate) or Class 4 (severe) cardiac disease as defined by the New York Heart Association Functional Classification E10or LVEF below LLN )
Pulmonary (chronic lung disease with hypoxemia)
Endocrinological (severe, not sufficiently controlled diabetes mellitus)
Renal insufficiency (unless caused by the lymphoma): creatinine > 2x normal value and/or creatinine clearance < 50 ml/min)
Impairment of liver function (unless caused by the lymphoma): transaminases > 3x normal or bilirubin > 2,0 mg/dl unless due to Morbus Meulengracht (Gilbert-Meulengracht-Syndrome)

Positive test results for chronic HBV infection (defined as positive HBsAg serology) (mandatory testing). Patients with occult or prior HBV infection (defined as negative HBsAg and positive total HBcAb) may be included if HBV DNA is undetectable, provided that they are willing to undergo monthly DNA testing. Patients who have protective titers of hepatitis B surface antibody (HBSAb) after vaccination are eligible.
Positive test results for hepatitis C (mandatory hepatitis C virus [HCV] antibody serology testing). Patients positive for HCV antibody are eligible only if PCR is negative for HCV RNA
Patients with known HIV positive infection (mandatory test)
Prior organ, bone marrow or peripheral blood stem cell transplantation
Concomitant or previous malignancies within the last 3 years other than basal cell skin cancer or in situ uterine cervix cancer
Pregnancy or lactation
Any psychological, familial, sociological, or geographical condition potentially hampering compliance with the study protocol and follow up schedule
Subjects not able to give consent
Subjects without legal capacity who are unable to understand the nature, scope, significance and consequences of this clinical trial
Participation in another clinical trial within 30 days before randomization in this study.
Registration Details
Via eCRF system of sponsor KU Munich:
https://glsg-login.xclinical.net/idp/
Regular interim analyses in approximately half-yearly schedule, triggered by the regular meetings of the European MCL Network that take place twice a year.
Go to eCRF: MARVIN
Participating Sites
Ziekenhuizen die deelnemen aan het onderzoek staan benoemd op de HOVON website bij het onderzoek. Het kan zijn dat uw ziekenhuis niet genoemd wordt, maar wel aan het onderzoek deelneemt. Informeer hiernaar bij uw arts.
Site
32 results
Order by
Accrual rate
Activation date
NL-Groningen-UMCG
06 Apr 2018
NL-Utrecht-UMCUTRECHT
05 Nov 2018
NL-Rotterdam-ERASMUSMC
15 Nov 2017
NL-Den Haag-HAGA
14 Mar 2018
NL-Amsterdam-VUMC
16 Mar 2018
NL-Nijmegen-RADBOUDUMC
10 Oct 2017
NL-Den Bosch-JBZ
06 Dec 2017
NL-Hoofddorp-SPAARNEGASTHUIS
21 Sep 2018
BE-Antwerpen Edegem-UZA
10 Apr 2018
BE-Leuven-UZLEUVEN
19 Dec 2017
NL-Breda-AMPHIA
05 Jun 2018
NL-Nieuwegein-ANTONIUS
12 Apr 2019
NL-Enschede-MST
02 Oct 2018
NL-Eindhoven-MAXIMAMC
03 Apr 2018
NL-Maastricht-MUMC
20 Mar 2018
NL-Leeuwarden-MCL
27 Mar 2018
NL-Zutphen-GELREZUTPHEN
17 Dec 2019
NL-Zwolle-ISALA
16 Feb 2018
NL-Rotterdam-MAASSTADZIEKENHUIS
19 Jan 2018
BE-Haine-Saint-Paul-JOLIMONT
19 Dec 2017
NL-Emmen-SCHEPER
17 Jan 2020
BE-Roeselare-AZDELTA
18 Oct 2017
BE-Antwerpen-ZNASTUIVENBERG
21 Nov 2017
NL-Leiden-LUMC
12 Apr 2019
NL-Roosendaal-BRAVIS
15 May 2018
BE-Brussel-UZBRUSSEL
13 Jul 2018
NL-Amsterdam-AMC
12 Feb 2019
NL-Gouda-GROENEHART
12 Apr 2019
BE-Gent-UZGENT
04 Jan 2019
NL-Tilburg-ETZ
17 May 2019
BE-Brugge-AZBRUGGE
05 Oct 2018
= Active hospitals
= Inactive hospitals