Main info
Identifier:

HOVON 135 AML

Sponsor:

HOVON

Working group party:

Leukemia

Age:

> 65

Stage:

1st Line

Echelon:

Level C-HIC&C-SCT

Included patients:

Active sites:

Title:

A randomized phase II multicenter study to assess the tolerability and efficacy of the addition of ibrutinib to 10-day decitabine in UNFIT (i.e. HCT-CI ≥ 3) AML and high risk myelodysplasia (MDS) (IPSS-R > 4.5) patients aged ≥ 66 years.
A study in the frame of the masterprotocol of parallel randomized phase II studies in UNFIT-older AML/high-risk MDS patients.
Timeline
2018
13 Jun
ClosedForInclusionActualStart
2023
13 Jun
CloseoutInProgressLastPtOutScheduledStart
Flow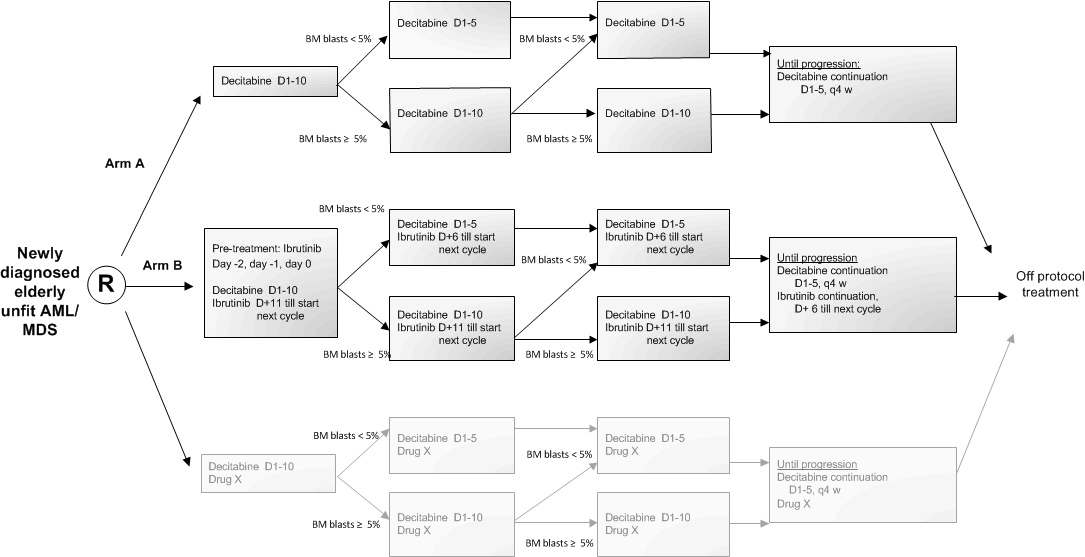 Details
Phase:

Prospective randomized Phase II study

Monitoring Type:

Not any more

Objectives:
Participating Sites
Ziekenhuizen die deelnemen aan het onderzoek staan benoemd op de HOVON website bij het onderzoek. Het kan zijn dat uw ziekenhuis niet genoemd wordt, maar wel aan het onderzoek deelneemt. Informeer hiernaar bij uw arts.
Site
38 results
Order by
Accrual rate
Activation date
NL-Groningen-UMCG
01 Sep 2016
CH-Bern-INSEL
26 Oct 2016
NL-Amersfoort-MEANDERMC
22 Mar 2017
LT-Vilnius-SANTA
13 Sep 2017
CH-Bellinzona-IOSI
28 Oct 2016
NL-Amsterdam-VUMC
21 Feb 2017
BE-Antwerpen-ZNASTUIVENBERG
17 Nov 2016
NL-Den Haag-HAGA
09 Mar 2017
NL-Breda-AMPHIA
09 Feb 2017
BE-Roeselare-AZDELTA
12 May 2017
NL-Leeuwarden-MCL
09 Feb 2017
NL-Nieuwegein-ANTONIUS
04 Jan 2017
CH-St. Gallen-KSSG
27 Oct 2016
NL-Maastricht-MUMC
01 Jun 2017
CH-Zürich-USZ
08 Nov 2016
NL-Zwolle-ISALA
13 Jun 2017
NL-Enschede-MST
27 Jun 2017
NL-Rotterdam-EMCDANIEL
07 Mar 2017
NL-Eindhoven-MAXIMAMC
21 Mar 2017
CH-Geneve (14)-HCUGE
02 Nov 2016
NL-Rotterdam-ERASMUSMC
07 Mar 2017
NL-Arnhem-RIJNSTATE
31 Aug 2017
NL-Den Bosch-JBZ
11 Jan 2017
BE-Haine-Saint-Paul-JOLIMONT
18 Apr 2018
NL-Amsterdam-OLVG
31 May 2017
CH-Luzern-LUKS
31 Oct 2016
NL-Nijmegen-RADBOUDUMC
17 Oct 2016
NL-Utrecht-UMCUTRECHT
21 Feb 2017
CH-Lausanne-CHUV
03 Nov 2016
NL-Delft-RDGG
31 May 2017
CH-Fribourg-HFR
14 Dec 2016
NL-Dordrecht-ASZ
17 Jan 2018
= Active hospitals
= Inactive hospitals