Main info
Identifier:

HO29 AML / SAKK 30/95

Sponsor:

HOVON

Included patients:

Active sites:

35 sites are pending

Title:

Remission Induction Chemotherapy with or without rHuG-CSF (lenograstim) sensitization.
Marrow Ablative Chemotherapy plus Autologous Peripheral Progenitor/Stem Cell Transplantation (PBSCT) versus Chemotherapy.
Timeline
1998
01 Dec
ClosedForInclusionActualStart
Flow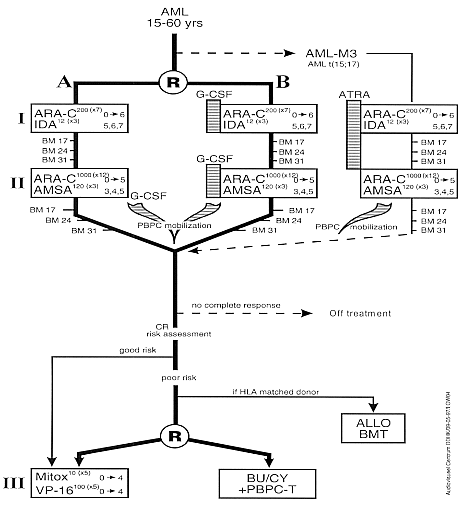 Details
Phase:

Prospective randomized Phase III study

Monitoring Type:

Objectives:
Eligibility
Inclusion Criteria:

Patients with newly diagnosed de novo AML.
Age 15-60 years inclusive.
Patients have given infomed consent.
Leucocytosis is not an exclusion criterium, but it will require postponement of G-CSF administration until WBC have declined to 20 x 109/l on chemotherapy.

Exclusion Criteria:

A concurrent active malignancy, except stage I cervix carcinoma and basocellular carcinoma.

Previous treatment with chemotherapy.
Leukemia following from a documented myelodysplasia with a duration of more than 6 months.
Blastic crisis of chronic myeloid leukemia or leukemia developing from myeloproliferative diseases.
Renal or liver function abnormalities.
HIV positive serology.
Severe cardiac, pulmonary or neurologic disease.
Participating Sites
Site
35 results
Order by
Accrual rate
Activation date
BE-Haine-Saint-Paul-JOLIMONT
CH-Bellinzona-SANGIOVANNI
DE-Frankfurt am Main-NORDWEST
NL-Meppel-ISALADIACONESSEN
= Active hospitals
= Inactive hospitals