Main info
Identifier:

HOVON 41 AL Amyloidosis

Sponsor:

HOVON

Included patients:

Active sites:

Title:

Autologous Stem Cell Transplantation for Patients with AL Amyloidosis: A Prospective Phase II Study.
Timeline
2006
31 Jan
CloseoutInProgressLastPtOutActualStart
Flow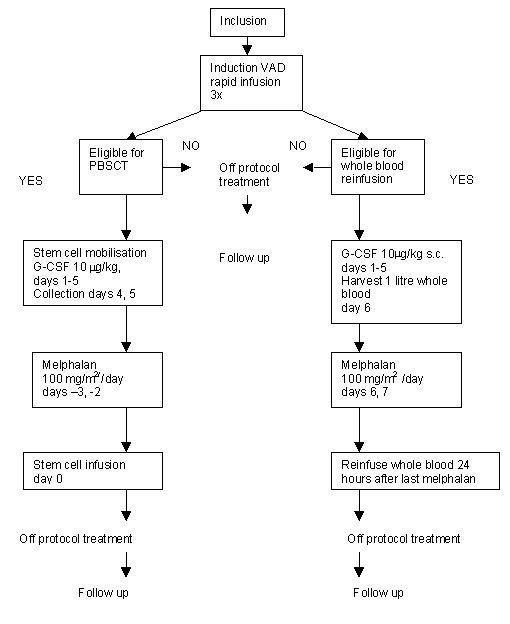 Details
Phase:

Prospective Phase II study

Monitoring Type:

Objectives:
Eligibility
Inclusion Criteria:

Age under 66 years
MGUS, multiple myeloma stage I
Histologically documented systemic AL amyloidosis (see appendix C)
Untreated or previously treated with maximal 3 courses of melphalan and prednisone
The patient must give informed consent according to the rules of the hospital.

Exclusion Criteria:

Prior malignancies diagnosed less than 5 years ago, except non-melanoma skin tumours or stage 0 (in situ) cervical carcinoma. Note: Prior malignancies diagnosed and treated longer than 5 years ago, and in which case it is likely that the patient is cured, are no exclusion criteria.
Patients with familial variants of systemic amyloidosis.
Severe pulmonary, neurologic, psychiatric, cardiac, liver or metabolic disease not related to AL amyloidosis.
Participating Sites
Site
13 results
Order by
Accrual rate
Activation date
NL-Apeldoorn-GELREAPELDOORN
= Active hospitals
= Inactive hospitals