Main info
Identifier:

HOVON 43 AML

Sponsor:

HOVON

Age:

> 60

Stage:

1st Line

Echelon:

Limited Site Selection

Included patients:

Active sites:

Title:

Randomized induction and post induction therapy in older patients (>= 61 yrs of age) with acute myelocytic leukemia (AML) and refractory anemia with excess of blasts (RAEB, RAEB-t)
Timeline
2006
09 Jun
ClosedForInclusionActualStart
2016
09 Jun
CloseoutInProgressLastPtOutActualStart
News
Thanks to the efforts of many people, the HOVON 43 AML study is successfully completed and an article has been published in the New England Journal of Medicine.
This article can be found using the following Reference:
Löwenberg B, Ossenkoppele GJ, Van Putten WI, et al. High-dose daunorubicin in older patients with acute myeloid leukemia. N Engl J Med 2009;361:1235-48.
Or go to the following link:
http://nejm.highwire.org/cgi/content/short/361/13/1235
On behalf of the study team, we thank all that have contributed to this study profoundly.
Flow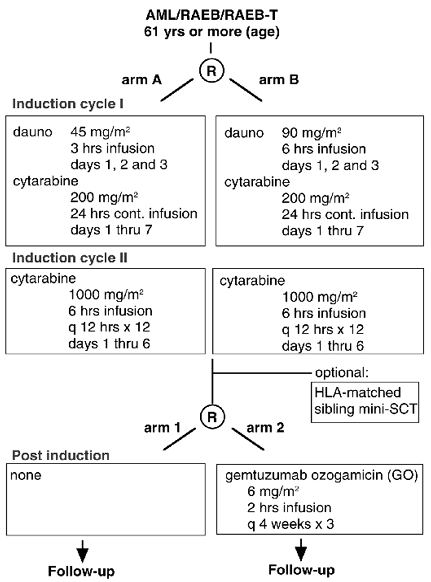 Details
Phase:

Prospective randomized Phase III study

Monitoring Type:

Not any more

Objectives:
Eligibility
Inclusion Criteria:

Age 61 years or more
Subjects with a cytopathologically confirmed diagnosis of (a) AML (M0-M2 and M4-M7, FAB classification, appendix A), or (b) with refractory anemia with excess of blasts (RAEB) or refractory anemia with excess of blasts in transformation (RAEB-t) with an IPSS score of >=1.5 (appendix B)
Subjects with a secondary AML progressing from antecedent myelodysplasia and biphenotypic leukemia are eligible. Antecedent MDS refers to any antecedent hematological disease of at least 4 month duration
WHO performance status <= 2 (see appendix E)
Written informed consent

Patients who have completed induction cycles I and II are eligible for second randomization if:

they are in complete remission
serum bilirubin <= 2 x normal value
Hematological recovery, i.e. ANC >= 1.5 x 109/l and platelets >= 100 x 109/l
Written informed consent

Exclusion Criteria:

Previous induction treatment for AML/MDS
Prior chemotherapy within 6 months of study entry
Previous polycythemia rubra vera
Primary myelofibrosis
Blast crisis of chronic myeloid leukemia
AML-FAB type M3 or AML with cytogenetic abnormality t(15;17)
Impaired hepatic or renal function as defined by: - ALT and/or AST > 2.5 x normal value - Bilirubin > 2 x normal value - Serum creatinin > 2 x normal value(after adequate hydration) (unless these are most likely caused by AML organ infiltration)
Concurrent severe and/or uncontrolled medical condition (e.g. uncontrolled diabetes, infection, hypertension, etc.)
Cardiac dysfunction as defined by:

a. Myocardial infarction within the last 6 months of study entry, or
b. Reduced left ventricular function with an ejection fraction <= 50% as measured by MUGA scan or echocardiogram (another method for measuring cardiac function is acceptable)
c. Unstable angina
d. Unstable cardiac arrhythmias
Participating Sites
Site
41 results
Order by
Accrual rate
Activation date
DE-Homburg-UNIKLINIKSAARLAND
DE-Stuttgart-KLINIKUMSTUTTGART
BE-Haine-Saint-Paul-JOLIMONT
DE-Karlsruhe-KLINIKUMKARLSRUHE
DE-Frankfurt am Main-NORDWEST
DE-Oldenburg-KLINIKUMOLDENBURG
= Active hospitals
= Inactive hospitals