Main info
Identifier:

HOVON 51 CML

Sponsor:

HOVON

Included patients:

Active sites:

Title:

A dose-ranging phase I/II study of STI571 in combination with Cytarabin in patients with first chronic phase Chronic Myeloid Leukemia.
Timeline
2014
01 Mar
CloseoutInProgressLastPtOutActualStart
Flow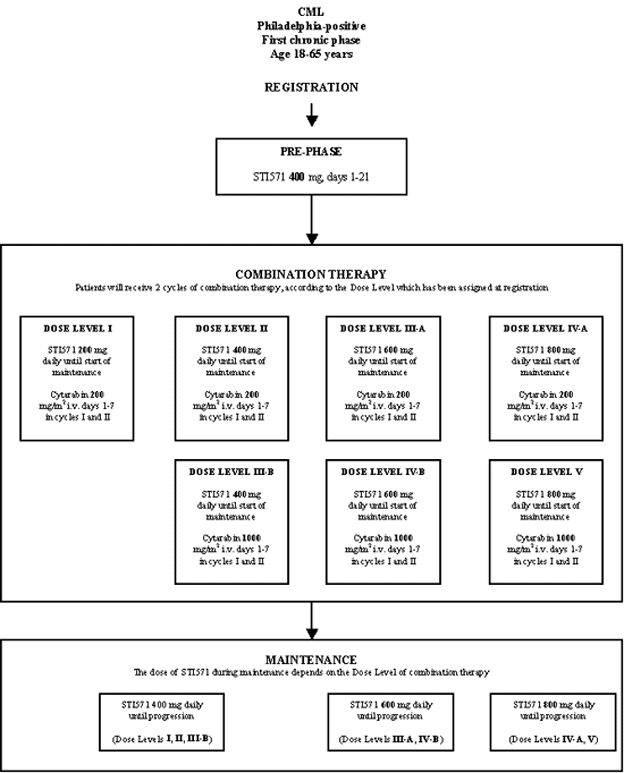 Details
Phase:

Prospective Phase I/II study

Monitoring Type:

Objectives:
Eligibility
Inclusion Criteria:

Newly diagnosed patients with CML in first chronic phase <= 6 months;
Presence of Philadelphia chromosome or BCR-ABL rearrangement;
Age 18-65 years inclusive;
WHO performance status <= 2;
Written informed consent.

Late randomization

written informed consent.
received Imatinib maintenance as HOVON 51 protocol treatment.
Having achieved a complete molecular response (> 4.5 log reduction by quantitative PCR), which persists for at least 2 years.
WHO <2

Exclusion Criteria:

Hepatic dysfunction (serum bilirubin >= 2 x N, and/or ALAT >= 4 x N);
Renal dysfunction (creatinin >= 200 mumol/l or 2.3 mg/dl);
Severe cardiac dysfunction (NYHA classification II-IV, see appendix G) ;
Severe pulmonary or neurologic disease;
Pregnant or lactating females;
Patients with a history of active malignancy during the past 5 years with the exception of basal carcinoma of the skin or stage 0 cervical carcinoma;
Patients known to be HIV-positive;
Patients with active, uncontrolled infections;
Previous treatment other than Hydroxyurea <= 6 months;

Late randomization:

Unable to visit outpatient clinic at regular one-monthly intervals during the first 6 months after stopping Imatinib.
Participating Sites
Site
14 results
Order by
Accrual rate
Activation date
= Active hospitals
= Inactive hospitals