Main info
Identifier:

HOVON 61 NHL

Sponsor:

HOVON

Active sites:

Title:

Supportive care in chemotherapy-related anemia in elderly non-Hodgkin's lymphoma: Darbepoetin alfa (Ara-nesp) versus red blood cell transfusion.
Flow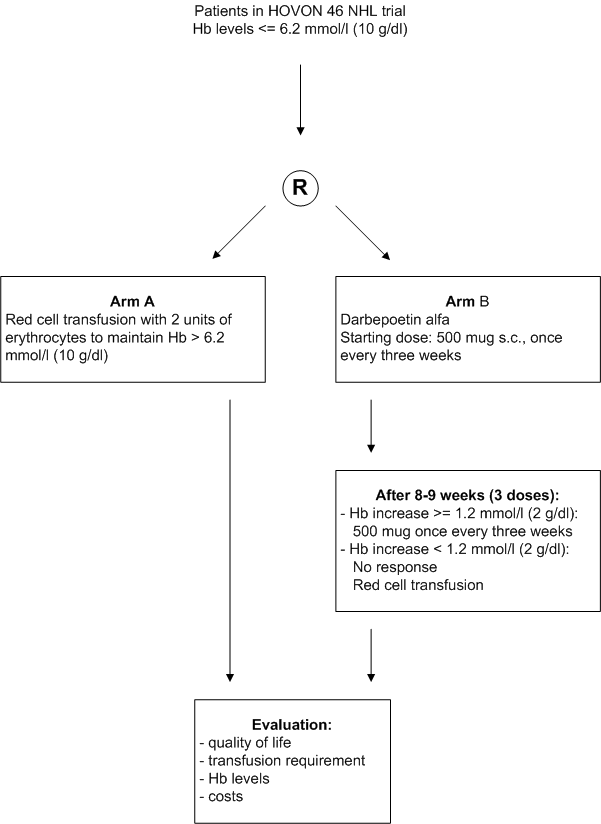 Details
Phase:

Prospective randomized Phase III study

Monitoring Type:

Objectives:
Eligibility
Inclusion Criteria:

Registration in the HOVON 46 NHL trial;
Hb levels <= 6.2 mmol/l (<= 10 g/dl);
Completion of baseline quality of life questionnaire;
Written informed consent

Exclusion Criteria:

Hypersensitivity to components of darbepoetin;
Treatment with epoetin or epoetin-related drugs within 4 weeks before registration in the HOVON 46 NHL trial;
Red cell transfusion after registration in the HOVON 46 NHL trial and within 4 weeks before randomization;
Correctable anemia not related to chemotherapy or bone-marrow infiltration such as deficiencies (iron, vit. B12, folic acid, autoimmune hemolysis);
Anemia due to other hematological diseases such as myelodysplastic syndromes or myeloproliferative syndromes;
Uncontrolled hypertension.
Participating Sites
Site
6 results
Order by
Accrual rate
Activation date
= Active hospitals
= Inactive hospitals