Main info
Identifier:

HOVON 71 ALL

Sponsor:

HOVON

Included patients:

Active sites:

Title:

Treatment of acute lymphoblastic leukemia (ALL) in adults age 40 - 70 years inclusive with chemotherapy including a pre-induction course for rapid tumor load reduction and prolonged maintenance chemotherapy.
Timeline
2008
03 Jan
CloseoutInProgressLastPtOutActualStart
Flow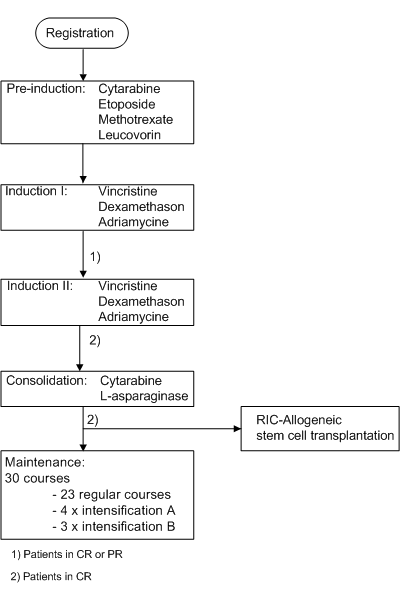 Details
Phase:

Prospective Phase II study

Monitoring Type:

Objectives:
Eligibility
Inclusion Criteria:

Age 40 - 70 years inclusive;
Primary previously untreated ALL;
WHO performance status 0, 1, or 2 (appendix C);
Negative pregnancy test at inclusion if applicable;
Written informed consent.

Exclusion Criteria:

Mature B-cell ALL;
Acute undifferentiated leukemia (AUL);
Severe cardiovascular disease (arrhythmias requiring chronic treatment, congestive heart failure or symptomatic ischemic heart disease);
Severe pulmonary dysfunction (CTCAE grade III-IV);
Severe neurological or psychiatric disease;
Significant hepatic dysfunction (serum bilirubin or transaminases >=3 times normal level) except when caused by leukemic infiltration;
Significant renal dysfunction (serum creatinin >=3 times normal level after rehydration and correction of hyperuricemia);
History of active malignancy during the past 5 years with the exception of basal carcinoma of the skin or stage 0 cervical carcinoma;
History of anthracycline use exceeding a cumulative dose of 300 mg/m2 doxorubicin (or its biological equivalent);
Active, uncontrolled infections;
Patients known to be HIV-positive;
Patient is a lactating woman;
Any psychological, familial, sociological and geographical condition potentially hampering compliance with the study protocol and follow-up schedule.
Participating Sites
Site
21 results
Order by
Accrual rate
Activation date
BE-Antwerpen-ZNASTUIVENBERG
= Active hospitals
= Inactive hospitals