Main info
Identifier:

HOVON 76 MM

Sponsor:

HOVON

Included patients:

Active sites:

Title:

Lenalidomide maintenance following tandem autologous stem cell and non myeloablative allogeneic transplantation for patients with multiple myeloma <= 66 years.
Timeline
2010
16 Mar
CloseoutInProgressLastPtOutActualStart
News
Study closed
The HO76 has been closed on 16MAR10. All patients who have already been included in the HO76 study, will finish their treatments according to protocol and all CRFs need to be sent in.
Activated hospitals:
AMC (31JAN08)
VUMC (14FEB08)
OLVG (29APR09)
UMCG (22JUL08)
MUMC (20OCT08)
ErasmusMC - Centrum (05JUN08)
ErasmusMC - Daniel (29APR08)
UMCU (03DEC07)
Isala Klinieken (17MAR09)
Updated documents (in reversed chronological order of date replacement):
New version of the CRF instructions (current version 20JUN09), placed on website on 08JUN09.
For implementation of amendment 3 the following documents have been updated on 20MAR09.
Protocol (current version 31OCT08)

Summary of changes protocol
PIF&ICF (current version 30JAN09)
Summary of changes PIF&ICF
CRFs (current version 15MAR09)
cMETC approval
CCMO approval

The medication order form has been updated on 17FEB09.
The drug accountability form has been added on 30JAN09.
A new medication order form has been added.
The declaration form has been changed. Instead of receiving 100 euros per site, you can now apply for 300 euros per patient.
In the declaration form is added the possibility to apply for monitoring costs.
Document named HO76_Questions_and_Answers_v02dec08 has been added and includes information about using TAD as induction therapy.
Flow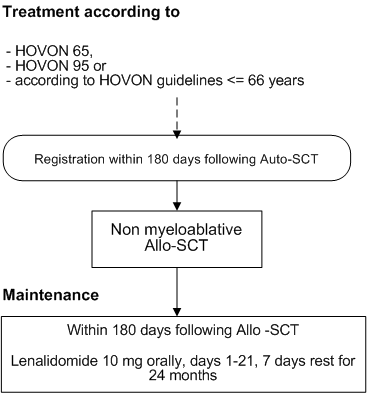 Details
Phase:

Prospective Phase II study

Monitoring Type:

Objectives:

Primary objective

To estimate PFS after start low dose lenalidomide maintenance treatment following non myeloablative Allo-SCT

Secondary objectives

To estimate OS after start low dose lenalidomide maintenance treatment
To estimate the ongoing response defined as the achievement of new VGPR and CR following start of lenalidomide treatment
To estimate the incidence and severity of adverse events according to the CTC criteria (appendix C)
To estimate the incidence and severity of acute and chronic GvHD in relation to maintenance treatment with lenalidomide (appendix F)
To estimate PFS from NMA allo-SCT
To estimate OS from NMA allo-SCT
To analyse relevant immunomodulating effects of lenalidomide in Multiple Myeloma in vivo.
Eligibility
Inclusion Criteria:

Age 18-66 years;
Patients with, before start of induction therapy, a confirmed diagnosis of multiple myeloma stage II or III according to the Salmon & Durie criteria (see appendix A), included in or treated according to the HOVON 65/GMMG-HD4, HOVON 95 or treated according to the guidelines of Hovon Myeloma Study Group for patients <= 66 years group;
Patient has received 3 cycles induction therapy, followed by stem cell mobilization and 1 cycle of high dose Melphalan with autologous stem cell reinfusion;
Allogeneic transplantation planned between 2 and 6 months after autologous SCT;
WHO performance status 0-2 (see appendix D);
HLA-identical family donor;
Disease free of prior malignancies for >= 5 years with exception of currently treated basal cell, squamous cell carcinoma of the skin, or carcinoma "in situ" of the cervix or breast.
Written informed consent for allo SCT treatment as well as lenalidomide maintenance, preferably signed in the presence of both patient and investigator and signed on the same date.

Inclusion criteria for lenalidomide maintenance

Laboratory test results within these ranges:

Absolute neutrophil count >= 1.0 x 109/L
Platelet count >= 75 x 109/L
Serum creatinine cleareance >= 50 ml/min
Total bilirubin <= 30 μmol/l
AST (SGOT) and ALT (SGPT) <= 3 x upper Limit of Normal (ULN);

Negative pregnancy test before inclusion if female of child baring potential;
Sexually active women of child bearing potential must agree to use 1 adequate contraceptive method while on study drug (and 4 weeks before and after study drug) (for detailed information see section 9.2.2);
Men must agree not to father a child and to use a condom if his partner is of childbearing potential;

Exclusion Criteria:

Creatinin clearance < 50 ml/min;
Severe cardiac dysfunction (NYHA classification II-IV, see appendix E);
Significant hepatic dysfunction (serum bilirubin >= 30 μmol/l or transaminases >= 2.5 times normal level), unless related to myeloma;
Known positive for HIV;
Patients with active, uncontrolled infections;
Patients with brain disease with the exception of those patients whose brain disease has been treated with either radiotherapy or surgery and remains asymptomatic, with no active brain disease, as shown by CT scan or MRI, for at least 6 months;
Progressive disease / relapse from CR / progression from MR or PR after HDM with autologous stem cell reinfusion;

Exclusion criteria for lenalidomide maintenance

Progressive myeloma (see appendix B)(within 3 weeks before start therapy, response must be checked and patients who developed progressive myeloma must be excluded);
Acute Graft versus host Disease >= grade 2 (at time of registration);
Pregnant or lactating females;
Concurrent use since NMA Allo SCT of other anti cancer agents or treatments or use of any other experimental drug or therapy within 28 days of planned start lenalidomide;
Known hypersensitivity to thalidomide;
The development of erythema nodosum if characterized by a desquamating rash while taking thalidomide or similar drugs;
Any prior use of lenalidomide;
Severe cardiac dysfunction (NYHA classification II-IV, see appendix E).
Participating Sites
Site
8 results
Order by
Accrual rate
Activation date
= Active hospitals
= Inactive hospitals