Main info
Identifier:

HOVON 78 CML

Sponsor:

HOVON

Included patients:

Active sites:

Title:

Imatinib in combination with Cytarabin as compared to Imatinib alone in patients with first chronic phase Chronic Myeloid Leukemia. A prospective randomized study.
Timeline
2010
01 May
CloseoutInProgressLastPtOutActualStart
Flow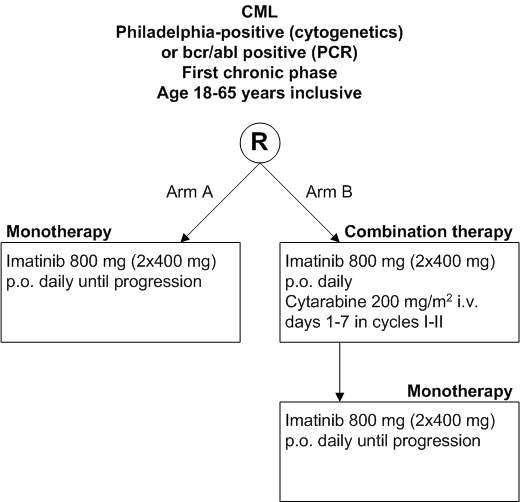 Details
Phase:

Prospective randomized Phase III study

Monitoring Type:

Objectives:

To determine the efficacy of the combination of imatinib with cytarabine as compared to imatinib alone in terms of the rate of molecular response at 12 months from randomization.
Eligibility
Inclusion Criteria:

Newly diagnosed patients with CML in first chronic phase ? 2 months;
Presence of Philadelphia chromosome or bcr-abl rearrangement;
Age 18-65 years inclusive;
WHO performance status ? 2 (see appendix E);
Written informed consent.

Exclusion Criteria:

CML in accelerated phase or blastic crisis as defined by the WHO criteria (see appendix A).
Hepatic dysfunction (serum bilirubin ? 2 x N, and/or ALAT ? 4 x N, and/or ASAT ? 4 x N);
Renal dysfunction (creatinine ? 200 ?mol/l or 2.3 mg/dl);
Severe cardiac dysfunction (NYHA classification II-IV, see appendix F);
Severe pulmonary or neurologic disease;
Pregnant or lactating females;
Patients with a history of active malignancy during the past 5 years with the exception of

basal carcinoma of the skin or stage 0 cervical carcinoma;

Patients known to be HIV-positive;
Patients with active, uncontrolled infections;
Previous treatment other than hydroxyurea ? 2 months or imatinib ? 1 month;
Male and female patients of reproductive potential who are not practicing effective means of

contraception.
Participating Sites
Site
29 results
Order by
Accrual rate
Activation date
NL-Hoofddorp-SPAARNEGASTHUIS
BE-Antwerpen-ZNASTUIVENBERG
NL-Schiedam-FRANCISCUSVLIETLAND
BE-Antwerpen-ZNAMIDDELHEIM
NL-Sittard-Geleen-ZUYDERLAND
= Active hospitals
= Inactive hospitals