Main info
Identifier:

HO79 AML / APL

Sponsor:

HOVON

Working group party:

Leukemia

Age:

18-75

Stage:

1st Line

Echelon:

Level B

Included patients:

Active sites:

Title:

Remission Induction with ATRA + Idarubicin. Risk-adapted consolidation with ATRA and Anthracycline-based Chemotherapy (Idarubicin/Mitoxantrone) with Addition of Ara-C for High-risk Patients. Maintenance Therapy with ATRA + Low Dose Chemotherapy (Methotrexate + Mercaptopurine)
Timeline
2013
11 Nov
ClosedForInclusionActualStart
2020
14 May
CloseoutInProgressLastPtOutActualStart
Flow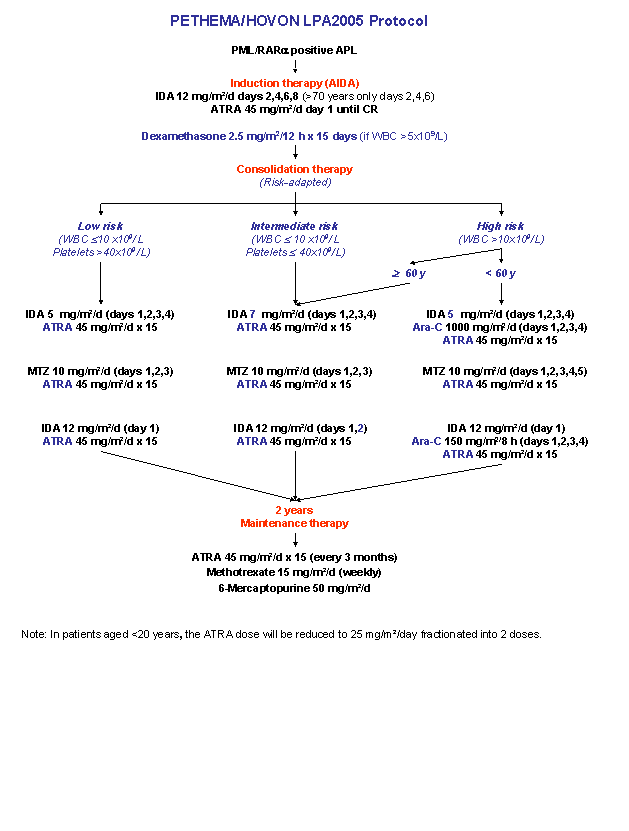 Details
Phase:

Prospective Phase II study

Monitoring Type:

Objectives:

Primary objectives

To evaluate the efficacy and toxicity of a risk-adapted protocol that use idarubicin for induction and consolidation therapy in patients with APL.
To evaluate the impact of mitoxantrone reduction on the event-free, disease-free, and overall survival, as well as on the duration of remission and cumulative incidence of relapse in low- and intermediate-risk patients with APL.
To evaluate the impact of the addition of ara-C to idarubicin courses of consolidation for high-risk patients (administered as in the original GIMEMA protocols) on the event-free, disease-free, and overall survival, as well as on the duration of remission and cumulative incidence of relapse.
To evaluate the toxicity of the induction, consolidation, and maintenance chemotherapy in the whole series and in each treatment group in patients with APL.

Secondary objectives

To compare all outcomes with those achieved with the PETHEMA LPA99 protocol.
Eligibility
Inclusion Criteria:

Age 18-75 years
ECOG performance status = 3.
Morphological diagnosis of APL (FAB-M3 or M3 variant). Those cases without typical morphology but with PML-RARa rearrangement should also be included.
Genetic diagnosis: t(15;17) demonstrated by conventional karyotyping, a PML-RARa rearrangement detected by RT-PCR or FISH, microspeckled PML protein pattern demonstrated by PG-M3 monoclonal antibody. Obviously, the result of these tests may become available after having initiated the treatment based on a tentative morphological diagnosis.

Exclusion Criteria:

Age >75 years (the treatment with this protocol can be considered on an individual basis)
Absence of PML-RARa rearrangement.
The patient must not have received any systemic definitive treatment for APL, including cytotoxic chemotherapy or retinoids. Prior therapy with corticosteroids, hydroxiurea or leukapheresis will not exclude the patient.
Prior chemotherapy or radiotherapy for the treatment of prior malignancy.
Presence of an associated neoplasm.
Presence of a severe psychiatric disease.
HIV seropositivity.
Contraindication for intensive chemotherapy, especially to anthracyclines.
Serum creatinine = 250 µmol/l (= 2.5 mg/dL)
Bilirubin, alkaline phosphatase, or SGOT > 3 times the upper normal limit
Positive pregnancy test.
Registration Details
Although treatment with ATRA alone is permitted during the diagnostic process, prior to registration, patients should be registered before starting chemotherapy (idarubicin). Nevertheless, registration can be also done within three working days after starting the protocol treatment. To avoid selection bias, all patients with a diagnosis of APL must be registered, regardless they are eligible for the study.
HOVON participants register patients at the HOVON Data Center of the Erasmus MC - Daniel den Hoed by phone call: +31.10.4391568 or fax +31.10.4391028 Monday through Friday, from 09:00 to 17:00, or via the Internet through TOP (Trial Online Process; https://www.hdc.hovon.nl/top). A logon to TOP can be requested at the HOVON Data Center for participants. Each patient will be given a unique patient study number, which will be given immediately by TOP or phone and confirmed by fax or email.
PETHEMA participants register patients at the PETHEMA Data Center (Servicio de Hematología. Hospital Universitario La Fe. Avda Campanar 21. 46009 Valencia, Spain) by Fax +34-96-197 3057 or by e-mail msanz@uv.es by mean of a specific registration form.
The following information will be requested:
Protocol Number
Investigator Identification

Institution and affiliate name
Investigator's name
Investigator's fax number (if possible)
Investigator's e-mail address

Patient Identification

Patient's initials and chart number
Patient demographics
Sex
Birth date (dd/mm/yyyy)
Zip code of residence
Participating Sites
Ziekenhuizen die deelnemen aan het onderzoek staan benoemd op de HOVON website bij het onderzoek. Het kan zijn dat uw ziekenhuis niet genoemd wordt, maar wel aan het onderzoek deelneemt. Informeer hiernaar bij uw arts.
Site
13 results
Order by
Accrual rate
Activation date
NL-Amsterdam-AMC
08 Mar 2007
NL-Utrecht-UMCUTRECHT
17 Jan 2007
NL-Groningen-UMCG
22 Aug 2006
NL-Nieuwegein-ANTONIUS
07 Jun 2007
NL-Amsterdam-OLVG
13 Aug 2008
NL-Enschede-MST
16 Apr 2008
NL-Maastricht-MUMC
10 Aug 2007
NL-Zwolle-ISALA
15 Oct 2007
NL-Den Haag-HAGA
20 Mar 2007
NL-Rotterdam-ERASMUSMC
24 May 2007
NL-Rotterdam-EMCDANIEL
10 Oct 2008
NL-Amsterdam-VUMC
02 Jan 2007
= Active hospitals
= Inactive hospitals