Main info
Identifier:

HOVON 80 NHL

Sponsor:

HOVON

Included patients:

Active sites:

Title:

Phase II study on the feasibility and efficacy of R-DHAP + HD-MTX, combined with autologous stem cell transplantation in patients with a recurrent aggressive B-cell lymphoma with CNS localisation.
Timeline
2011
04 Nov
CloseoutInProgressLastPtOutActualStart
News
As of November 4, 2011 the HO80 NHL study is closed for patient inclusion.
Reason: total number of patients has been reached.
Flow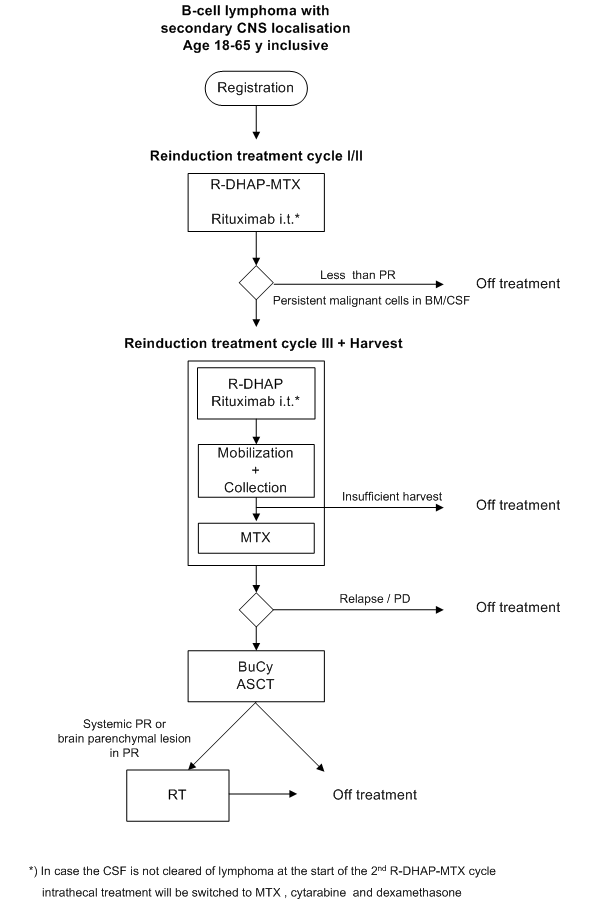 Details
Phase:

Prospective Phase II study

Monitoring Type:

Objectives:

Evaluation of intensive therapy for relapsed B-cell
lymphoma with CNS localisation. Treatment includes:
a. intrathecal administration of rituximab
b. combining R-DHAP with high dose methotrexate intravenously
The following endpoints will be evaluated:
progression free survival, response rate and overall survival.
Eligibility
Inclusion Criteria:

Diagnosis of aggressive malignant B-cell lymphoma based upon a representative histology specimen according to the WHO classification (see appendix A):

1. Follicular lymphoma grade III
2. Diffuse large B-cell lymphoma
Prior 'low-grade' lymphoma with histologically proven transformation to follicular lymphoma grade III or DLBCL is also permitted.

CD 20 positive
First progression or relapse with CNS localisation (see below) without or with systemic relapse (preferably histologically proven). 'Progressive' includes patients who have progressive disease (PD), without prior response and patients who have progression after first PR.
Diagnosis of CNS localisation based on at least one of the following:

1. Unequivocal morphological and/or immunophenotypical evidence of CSF lymphoma
2. clinical AND MRI evidence of leptomeningeal localisation
3. brain parenchymal lesion showing homogeneous contrast enhancement suspect for lymphoma, concurrently with systemic progression or recurrence
4. biopsy-proven brain parenchymal NHL localisation of previously diagnosed systemic NHL

Age 18-65 years inclusive
WHO performance status 0 - 2 (see appendix F) with or without administration of steroids
Written informed consent according to the centre's requirements
Negative pregnancy test in women of reproductive potential

Exclusion Criteria:

History of intolerance of exogenous protein administration
Severe cardiac dysfunction (NYHA classification III-IV, appendix G, or LVEF < 45%)
Severe pulmonary dysfunction (vital capacity or diffusion capacity < 50% of predicted value) unless clearly related to NHL involvement
Hepatic dysfunction, bilirubin or transaminase ? 2.5 x upper normal limit, unless related to lymphoma.
Renal dysfunction (serum creatinine ?150 umol/l or clearance ? 60 ml/min)
Prior cranial radiotherapy
Active uncontrolled infection
Known HIV-positivity
(EBV) post-transplant lymphoproliferative disorder
Documented CNS involvement during 1st line therapy (MTX intrathecal profylaxis during 1st line therapy is no exclusion criterium)
Participating Sites
Site
12 results
Order by
Accrual rate
Activation date
NL-Rotterdam-MAASSTADZIEKENHUIS
= Active hospitals
= Inactive hospitals