Main info
Identifier:

HO81 AML

Sponsor:

HOVON

Age:

> 60

Stage:

1st Line

Echelon:

Level C-HIC

Included patients:

Active sites:

Title:

A Phase II multicenter study to assess the tolerability and efficacy of the addition of Bevacizumab to standard induction therapy in AML and high risk MDS above 60 years.
Timeline
2009
18 Aug
ClosedForInclusionActualStart
Flow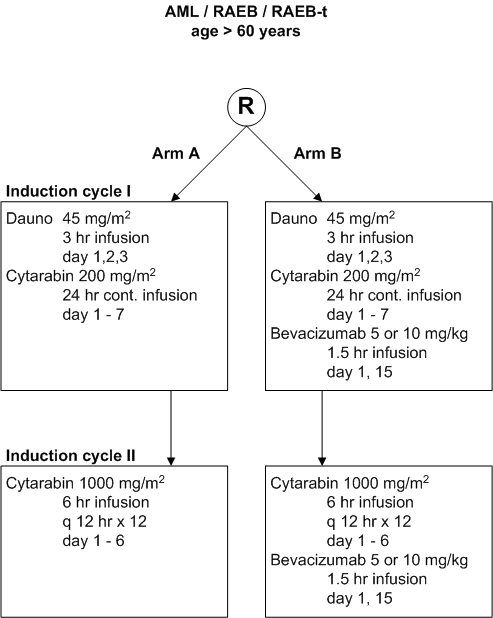 Details
Phase:

Prospective Phase II study

Monitoring Type:

Not any more

Objectives:

Primary objectives:

To assess the safety and tolerability of bevacizumab added to standard induction chemotherapy for AML (frequency and severity of toxicities and the durations of neutropenia and thrombocytopenia)
To assess in a randomized comparison the effect of bevacizumab on the CR rate.

Secondary objectives:

To determine the efficacy profile (event free survival and disease free survival) associated with the two therapy regimens.
To measure MRD by immunophenotyping in relation to clinical response parameters.
To determine micro vascular density after the first course of therapy in both treatment arms.
To measure VEGF levels in plasma and VEGF receptors on leukemic blasts in relation to clinical parameters.

In addition, exploratory proteomic and genomic analysis are planned to identify potential biomarkers predictive of response and progression free survival.
Eligibility
Inclusion Criteria:

Patients > 60 years.
Patients eligible for standard chemotherapy.
Patients with a confirmed diagnosis of

AML FAB M0-M2 or M4-M7 (see appendix A) or
with refractory anemia with excess of blasts (RAEB) or refractory anemia with excess of blasts in transformation (RAEB-T) with an IPSS score ≥ 1.5 (see Appendix B)

Subjects with secondary AML progressing from antecedent (at least 4 months duration) myelodysplasia are also eligible.
SGOT (AST) and SGPT (ALT) ≤ 1.5 x the upper limit of the normal range (ULN) at the laboratory where the analyses were performed.
Total serum bilirubin level ≤ 1.5 x the ULN at the laboratory where the analysis was performed.
Serum creatinine concentration ≤ 1.5 x the ULN at the laboratory where the analysis was performed.
Proteinuria at baseline: Urine dipstick of proteinuria <2+. Patients discovered to have ≥ 2+ proteinuria on dipstick urinalysis at baseline, should undergo a 24-hour urine collection and must demonstrate ≤ 1 g of protein/24 hr.
WHO performance status ≤ 2 (see Appendix G)
Written informed consent.

Exclusion Criteria:

Patients previously treated for AML (any antileukemic therapy including investigational agents)
Past or current history (within the last 2 years prior to randomization) of malignancies except for the indication under this study and curatively treated:

Basal and squamous cell carcinoma of the skin
in situ carcinoma of the cervix

Clinically significant (i.e. active) cardiovascular disease, for example cerebrovascular accidents (≤ 6 months prior to randomization), myocardial infarction (≤ 6 months prior to randomization), unstable angina, New York Heart Association (NYHA) grade II or greater congestive heart failure, serious cardiac arrhythmia requiring medication, reduced left ventricular ejection fraction of < 50% as evaluated by echocardiogram or MUGA scan.
Uncontrolled hypertension
Patients with a history of non-compliance to medical regimens or who are considered unreliable with respect to compliance
Patients with any serious concomitant medical condition which could, in the opinion of the investigator, compromise participation in the study.
Patients who have senile dementia, mental impairment or any other psychiatric disorder that prohibits the patient from understanding and giving informed consent.
Major surgical procedure, open biopsy, or significant traumatic injury within 28 days prior to study treatment start, or anticipation of the need for major surgical procedure during the course of the study
Serious, non-healing wound, ulcer, or bone fracture
Patients with bleeding diathesis or coagulopathy (unless related to AML)
Patients with known allergy to Chinese hamster ovary cell proteins or other recombinant human or humanized antibodies or to any excipients of bevacizumab formulation; or to any other study drugs.
Registration Details
Eligible patients who have given written informed consent should be registered and randomised before start of treatment. Patients can be registered and randomised at the HOVON Data Center of the Erasmus MC - Daniel den Hoed by phone call: +31.10.4391568 or fax +31.10.4391028 Monday through Friday, from 09:00 to 17:00, or via the Internet.

The following information will be requested at registration:
Protocol number
Institution name
Name of caller/responsible investigator
Patients initials or code
Sex
Date of birth
Eligibility criteria
Participating Sites
Ziekenhuizen die deelnemen aan het onderzoek staan benoemd op de HOVON website bij het onderzoek. Het kan zijn dat uw ziekenhuis niet genoemd wordt, maar wel aan het onderzoek deelneemt. Informeer hiernaar bij uw arts.
Site
34 results
Order by
Accrual rate
Activation date
NL-Amsterdam-VUMC
13 Mar 2007
NL-Rotterdam-EMCDANIEL
08 Mar 2007
CH-Bern-INSEL
17 Jul 2007
BE-Leuven-UZLEUVEN
19 Feb 2008
NL-Rotterdam-ERASMUSMC
03 Apr 2007
NL-Amsterdam-AMC
29 Mar 2007
NL-Groningen-UMCG
22 Aug 2007
BE-Antwerpen-ZNASTUIVENBERG
19 Feb 2008
NL-Nieuwegein-ANTONIUS
29 Mar 2007
NL-Leiden-LUMC
27 Nov 2007
NL-Den Haag-HAGA
07 Jun 2007
BE-Yvoir-MONTGODINNE
27 Dec 2007
NL-Maastricht-MUMC
05 Jun 2008
NL-Zwolle-ISALA
10 Oct 2007
CH-Geneve (14)-HCUGE
30 Oct 2007
NL-Utrecht-UMCUTRECHT
16 Oct 2007
BE-Bruxelles-STLUC
12 Dec 2007
NL-Amersfoort-MEANDERMC
21 Jul 2008
NL-Dordrecht-ASZ
07 May 2007
CH-Luzern-LUKS
16 Oct 2007
CH-Lausanne-CHUV
26 Jul 2007
NL-Leeuwarden-MCL
19 May 2008
NL-Delft-RDGG
12 Jun 2008
NL-Heerlen-ATRIUMMC
05 Jun 2008
BE-Roeselare-AZDELTA
20 Feb 2008
NL-Amsterdam-OLVG
13 Mar 2008
NL-Enschede-MST
24 Jan 2008
BE-Antwerpen-ZNAMIDDELHEIM
17 Jun 2009
BE-Haine-Saint-Paul-JOLIMONT
18 Dec 2007
BE-Liege-CHRCITADELLE
14 Aug 2008
= Active hospitals
= Inactive hospitals