Main info
Identifier:

HO87 MM

Sponsor:

HOVON

Working group party:

Myeloma

Age:

> 65

Stage:

1st Line

Echelon:

Level D

Included patients:

Active sites:

Title:

Randomized phase III trial in elderly patients with previously untreated symptomatic Multiple Myeloma comparing MP-Thalidomide (MP-Thal) followed by thalidomide maintenance versus MP-Lenalidomide (MP-Len) followed by maintenance with lenalidomide.
Timeline
2012
19 Oct
ClosedForInclusionActualStart
2020
06 Jul
CloseoutInProgressLastPtOutScheduledStart
2020
07 Oct
CloseoutInProgressLastPtOutActualStart
Flow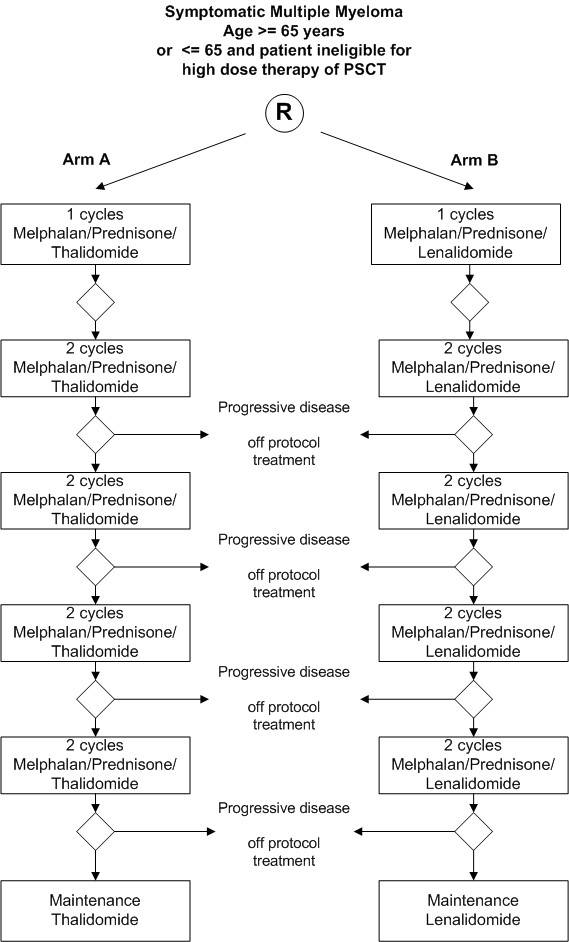 Details
Phase:

Prospective Phase III study

Monitoring Type:

Not any more

Objectives:

Primary endpoint

Progression free survival, defined as time from registration to progression or death from any cause
Response rate defined as sCR, CR or VGPR

Secondary endpoints

Overall response rate defined as sCR, CR, VGPR or PR
Overall survival, measured from time of registration
Quality of response during maintenance, measured as improvement of response (from start maintenance till progression)
Time to maximum response, defined as time from registration to maximum response
Time to death from relapse/progression (after initial response), measured from time of first relapse/progression
Safety and toxicity as defined by type, frequency and severity of adverse events as defined by the National Cancer Institute (NCI) Common Terminology Criteria (CTC), version 3.0
Quality of life as defined by the EORTC QLQ-C30 definitions.
Eligibility
Inclusion Criteria:

Previously untreated patients with a confirmed diagnosis of symptomatic multiple myeloma according to IMWG criteria (see appendix A)
Age > 65 years or patients ≤ 65 not eligible for high dose chemotherapy and peripheral stem cell transplantation
WHO performance status 0-3 for patients <75 years and WHO performance status 0-2 for patients ≥ 75 years (see appendix E)
Measurable disease as defined by the presence of M-protein in serum or urine or proven plasmacytoma by biopsy (see appendix A for definitions)
Written informed consent

Exclusion Criteria:

Non-secretory MM
Known hypersensitivity to thalidomide
Systemic AL amyloidosis
Polyneuropathy, grade 2 or higher
Severe cardiac dysfunction (NYHA classification II-IV, appendix F)
Severe pulmonary dysfunction
Significant hepatic dysfunction (total bilirubin ≥ 30 μmol/l or transaminases ≥ 3 times normal level), unless related to myeloma
Creatinine clearance <30 ml/min
Patients with active, uncontrolled infections
Pre-treatment with cytostatic drug, IMIDs or proteasome inhibitors. Radiotherapy or a short course of steroids (e.g. 4 day treatment of dexamethasone 40 mg/day or equivalent) are allowed.
Patients known to be HIV-positive
History of active malignancy during the past 5 years, except basal carcinoma of the skin or stage 0 cervical carcinoma
Not able and/or not willing to use adequate contraception
Pregnancy
Registration Details
Eligible patients should be randomized before start of treatment. Patients need to be registered at the HOVON Data Center of the Erasmus MC Rotterdam via the Internet via TOP (Trial Online Process; https://www.hdc.hovon.nl/top) or by phone call: +31.10.7041560 or fax +31.10.7041028 Monday through Friday, from 09:00 to 17:00 CET. A logon to TOP can be requested at the
HOVON Data Center for participants.
The following information will be requested at registration:
Protocol number
Institution name
Name of caller/responsible investigator
Sex
Date of birth
Date written informed consent
ISS stage
Will patient participate in the quality of life study
'Risk Management Program' discussed with patient
Approval for blood storage for scientific research
Approval for bone marrow storage for scientific research
Eligibility criteria
Participating Sites
Ziekenhuizen die deelnemen aan het onderzoek staan benoemd op de HOVON website bij het onderzoek. Het kan zijn dat uw ziekenhuis niet genoemd wordt, maar wel aan het onderzoek deelneemt. Informeer hiernaar bij uw arts.
Site
107 results
Order by
Accrual rate
Activation date
NL-Dordrecht-ASZ
12 Mar 2009
NO-Trondheim-STOLAV
11 Sep 2009
NL-Groningen-MARTINI
10 Sep 2009
NL-Hilversum-TERGOOI
15 Jul 2009
NL-Zwolle-ISALA
12 Mar 2009
NL-Amersfoort-MEANDERMC
15 Jun 2009
NL-Gouda-GROENEHART
27 May 2009
NL-Den Bosch-JBZ
15 Jun 2009
NL-Alkmaar-NWZ
11 Jun 2009
NL-Rotterdam-MAASSTADZIEKENHUIS
15 Jul 2009
SE-Goteborg-SAHLGRENSKA
27 Apr 2010
NL-Zaandam-ZAANSMC
27 Jan 2010
DK-Copenhagen-RIGSHOSPITALET
11 Jan 2010
NL-Delft-RDGG
27 Apr 2009
NL-Tilburg-ETZ
26 Jun 2009
NL-Arnhem-RIJNSTATE
09 Jun 2009
NL-Hoofddorp-SPAARNEGASTHUIS
12 Mar 2009
NL-Amsterdam-VUMC
12 Mar 2009
DK-Vejle-VEJLESYGEHUS
26 Jan 2010
NL-Dirksland-VANWEELBETHESDA
07 May 2009
NL-Maastricht-MUMC
28 May 2009
NL-Sneek-ANTONIUSSNEEK
10 Apr 2009
NL-Nieuwegein-ANTONIUS
03 Apr 2009
NL-Schiedam-FRANCISCUSVLIETLAND
10 Sep 2009
NL-Venlo-VIECURI
21 Jul 2009
SE-Stockholm-KAROLINSKASOLNA
11 Mar 2011
NL-Den Haag-HAGA
27 Mar 2009
NL-Roosendaal-BRAVIS
16 Feb 2010
NL-Apeldoorn-GELREAPELDOORN
27 Mar 2009
NL-Utrecht-UMCUTRECHT
24 Jul 2009
NO-Forde-HELSEFORDE
27 Nov 2009
NL-Sittard-Geleen-ZUYDERLAND
22 May 2009
NL-Breda-AMPHIA
22 May 2009
NL-Winterswijk-SKBWINTERSWIJK
26 Jun 2009
NL-Eindhoven-MAXIMAMC
15 Dec 2009
NL-Enschede-MST
02 Nov 2009
SE-Linköping-REGIONOSTERGOTLAND
11 Oct 2010
NL-Heerlen-ATRIUMMC
27 Jun 2009
NO-Stavanger-HELSESTAVANGER
27 Nov 2009
SE-Luleå-SUNDERBY
26 May 2010
NL-Groningen-UMCG
27 May 2009
NL-Hengelo-ZGTHENGELO
22 Jul 2009
NL-Amsterdam-SLOTERVAART
12 Mar 2009
NL-Delfzijl-OMMELANDERDELFZIJL
22 May 2009
NL-Hoogeveen-TRENTBETHESDA
12 Mar 2009
NL-Roermond-LZR
30 Nov 2009
NL-Rotterdam-IKAZIA
07 Dec 2009
SE-Boras-SASBORAS
27 Apr 2010
NO-Oslo-ULLEVAL
07 Oct 2010
NL-Helmond-ELKERLIEK
28 May 2010
NL-Rotterdam-ERASMUSMC
03 Apr 2009
NL-Amstelveen-AMSTELLAND
13 Jul 2009
NL-Nijmegen-RADBOUDUMC
17 Apr 2009
NL-Uden-BERNHOVEN
10 Apr 2012
NL-Rotterdam-EMCDANIEL
23 Apr 2009
SE-Örebro-OREBROUH
21 May 2010
NL-Den Haag-HMCBRONOVO
10 Aug 2009
NL-Leeuwarden-MCL
12 Jun 2009
SE-Uddevalla-VGREGION
27 Aug 2010
NL-Amsterdam-OLVG
11 Jan 2010
NL-Beverwijk-RKZ
21 Jan 2010
NL-Den Haag-HMCWESTEINDE
14 May 2009
NL-Hoorn-DIJKLANDERHOORN
16 Sep 2009
NL-Deventer-DZ
23 Mar 2009
NL-Zutphen-GELREZUTPHEN
11 Sep 2009
NL-Leiden-LUMC
09 Jun 2009
NL-Amsterdam-AMC
12 Mar 2009
NL-Woerden-ANTONIUSWOERDEN
14 Dec 2010
BE-Antwerpen-ZNASTUIVENBERG
10 Feb 2010
DK-Odense-OUH
13 Jul 2011
NL-Gorinchem-BEATRIX
27 Apr 2010
SE-Stockholm-KAROLINSKAHUDDINGE
06 Sep 2011
NO-Levanger-HELSENORD
09 Apr 2010
SE-Umeå-VASTERBOTTEN
14 Jun 2010
NL-Capelle a/d IJssel-YSL
10 Sep 2009
NO-Bergen-HELSEBERGEN
22 Mar 2010
NL-Drachten-NIJSMELLINGHE
21 Jan 2010
NL-Almelo-ZGTALMELO
09 Apr 2009
NL-Terneuzen-ZORGSAAM
01 Apr 2010
DK-Herlev-HERLEV
23 Dec 2010
NL-Heerenveen-TJONGERSCHANS
03 Aug 2011
NO-Tromsø-NORTHNOORWEGEN
10 Aug 2010
NL-Rotterdam-SFG
28 Apr 2009
NL-Leidschendam-HMCANTONIUSHOVE
14 Jun 2009
NL-Amsterdam-SLAZLUCAS
09 Apr 2009
NL-Doetinchem-SLINGELAND
09 Apr 2010
NO-Honefoss-RINGERIKE
23 Dec 2010
NL-Utrecht-DIAKONESSENUTRECHT
NO-Oslo-DIAKONSYK
19 May 2010
BE-Antwerpen-ZNAMIDDELHEIM
28 Apr 2010
SE-Sundsvall-RVN
02 Jun 2010
SE-Falun-REGIONDALARNA
21 May 2010
NL-Meppel-ISALADIACONESSEN
NO-Kristiansand-SORLANDET
08 Apr 2010
NO-Harstad-UNNHARSTAD
09 Apr 2010
NL-Geldrop-STANNA
28 Sep 2010
NL-Purmerend-DIJKLANDERPURMEREND
08 Jun 2009
NL-Lelystad-STJANSDALLELYSTAD
14 Oct 2010
NL-Harderwijk-STJANSDALHARDERWIJK
30 Mar 2012
NL-Almere-FLEVOZIEKENHUIS
01 Sep 2009
NO-Alesund-HELSEMR
30 Nov 2009
= Active hospitals
= Inactive hospitals