Main info
Identifier:

HO90 NHL

Sponsor:

HOVON

Working group party:

Lymphoma

Age:

18-60

Stage:

1st Line

Active sites:

Title:

ACT-1 (younger patients) A randomized phase III study to evaluate the efficacy of chemoimmunotherapy with
the monoclonal antibody Campath-1H (Alemtuzumab) given in combination with 2-weekly CHOP versus 2-weekly CHOP alone and consolidated by autologous stem cell transplant, in young patients with previously untreated systemic peripheral Tcell lymphomas
Timeline
2020
14 May
CloseoutInProgressLastPtOutActualStart
News
Both amendment 1 & 2 have been approved for the HO90 T-NHL (ACT1) study.
After receipt of the protocol signature pages, adjusted ICF and signed checklist at the HOVON Data Center, patients can be included again.
The HO90 T-NHL study has been initial approved by the METC of the UMC Groningen on 25-NOV-2008.
This study is a so-called intergroup study in which HOVON participates. Leading group is the Nordic Lymphoma Group (Prof F. d'Amore). If you wish to participate in this study please contact the HOVON Data Center (M. Luten), before taking any action.
Please notice that a FAQ document is available for this study. If you have any other question regarding this study, do not hesitate to contact the HOVON Data Center.
Flow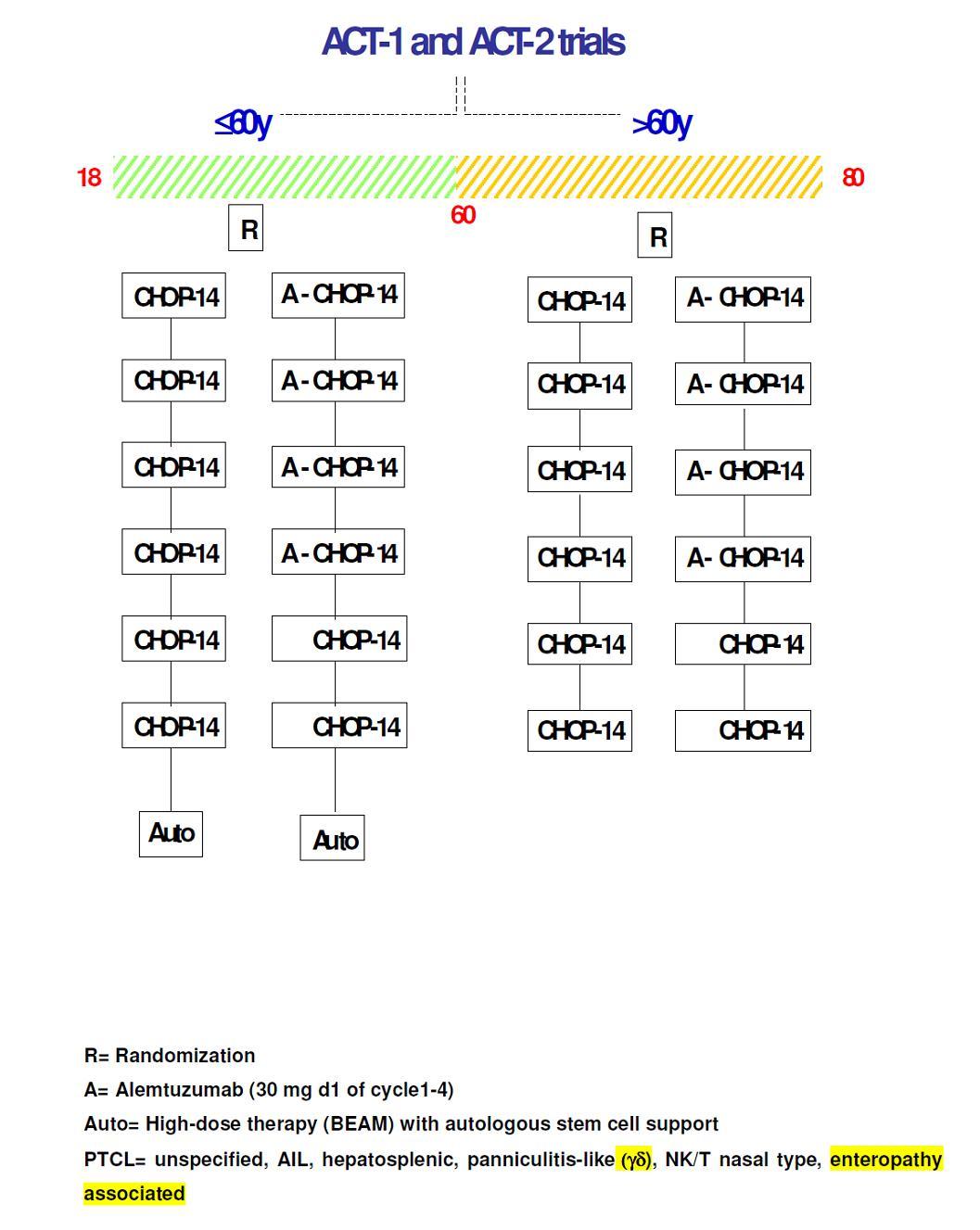 Details
Phase:

Prospective randomized Phase III study

Monitoring Type:

Not any more

Objectives:

Primary objective:
To assess the effect of the addition of alemtuzumab s.c. to 6 courses of 2-weekly CHOP14 in terms of Event-Free Survival (EFS) as defined in paragraph 16.1.

Secondary Objectives:

To assess the effect of the addition of alemtuzumab s.c. to 6 courses of 2-weekly CHOP14 in term of overall survival (OS), progression-free survival (PFS) and overall response rates (ORR, i.e. CR/CRu/PR), tumor control or time to progression (TTP).

Assessment of ORR means evaluating eligibility to autologous stem cell transplantation.

To assess the overall response rates (ORR) related to the CD52 expression.
To evaluate the safety of the addition of alemtuzumab s.c. combined with 2-weekly CHOP with respect to the incidence of severe opportunistic infections and infections due to neutropenia as well as the adherence to protocol as defined in paragraph 16.2.
Eligibility
Inclusion Criteria:

Previously untreated patients with newly diagnosed peripheral T-cell lymphoma of stage I bulk ( ≥ 7.5 cm) and stages II to IV.
Patients with a confirmed histologic diagnosis of peripheral T-cell NHL according to the WHO classification (Appendix C):

Peripheral T-cell lymphoma, unspecified (PTCL NOS)
Angioimmunoblastic T-cell lymphoma
Enteropathy associated T cell lymphoma
Subcutaneous panniculitis-like T-NHL (gd T-cell lymphoma)
Hepatosplenic T-cell lymphoma
Extranodal NK/T cell lymphoma, nasal type

Age 18-60 years at time of randomization
Life expectancy of 3 months or longer
ECOG performance status (PS) 0, 1 or 2 at the time of randomization (see appendix D). However, PS 3 will be acceptable if lymphoma-related.
Measurable disease (defined as at least one lesion with two measurable perpendicular diameters of which at least one should be ≥ 15 mm).
Written informed consent

Exclusion Criteria:

Patients with NK/T-NHL of the following type:

Precursor T cell lymphoblastic lymphoma/leukemia
All mature T cell leukemias (T-PLL, ATLL, NK cell leukemia, T-LGL, HTLV1-pos ATL)
Alk-positive and negative anaplastic large cell lymphoma
Blastic NK cell lymphoma
Cutaneous T-cell lymphoma, transformed or not

Concurrent severe and/or uncontrolled medical disease (e.g. uncontrolled diabetes, congestive heart failure, myocardial infarction within 6 months prior to the study, unstable and uncontrolled hypertension, chronic renal disease, or active uncontrolled infection), which could compromise participation in the study.
Known hypersensitivity to murine or chimeric antibodies or proteins
Severe cardiac dysfunction (NYHA classification II-IV, Appendix H) or LVEF < 45 %
Significant renal dysfunction, i.e. serum creatinin >2 times upper normal level (UNL), unless related to NHL
Significant hepatic dysfunction (total bilirubin >2 times UNL or transaminases ≥ 2.5 times UNL), unless related to NHL
Impaired pulmonary functions; in this case, the patient is to be excluded if the resultant pulmonary function test shows FEV1<50% or a diffusion capacity <50% of the reference values
Suspected or documented Central Nervous System involvement by NHL
Patients known to be HIV-positive
Patients with active, uncontrolled infections, especially known seropositivity for HCV or HbsAg
Patients with uncontrolled asthma or allergy, requiring systemic steroid treatment
Prior treatment with chemotherapy, radiotherapy or immunotherapy for this lymphoma, except local radiotherapy in case of extranodal NK/T cell lymphoma, nasal or nasal type
History of active cancer during the past 5 years, except basal carcinoma of the skin or stage 0 cervical carcinoma
Unwillingness or inability to comply with the protocol
Simultaneous participation in any other study protocol
Pregnant and nursing women (Women of childbearing potential should use safe anticonception (contraceptive pills, intrauterine devices, injection of prolonged gestagen, subdermal implantation, hormonal vaginal devices and transdermal patches are

considered as safe contraceptive methods).
Registration Details
The patient should be registered and randomized immediately after satisfactory completion of screening tests and obtaining informed consent, and before the start of chemotherapy. Patients need to be registered at the Clinical Trial Office.
The following information will be requested at randomization:
Protocol number
Institution name
Name of caller/responsible investigator
Patient's initials or code
Patient's hospital record number
Sex
Date of birth
Date of diagnosis of NHL
WHO classification
Pathology result from referral/reference pathologist
Eligibility criteria (i.e. all inclusion and exclusion criteria)
Participating Sites
Ziekenhuizen die deelnemen aan het onderzoek staan benoemd op de HOVON website bij het onderzoek. Het kan zijn dat uw ziekenhuis niet genoemd wordt, maar wel aan het onderzoek deelneemt. Informeer hiernaar bij uw arts.
Site
29 results
Order by
Accrual rate
Activation date
BE-Brugge-AZBRUGGE
01 Nov 2012
NL-Enschede-MST
11 Jan 2010
NL-Nijmegen-RADBOUDUMC
22 Sep 2009
NL-Nieuwegein-ANTONIUS
07 May 2009
NL-Groningen-UMCG
05 May 2009
NL-Amsterdam-VUMC
22 Sep 2009
NL-Dordrecht-ASZ
28 May 2009
BE-Yvoir-MONTGODINNE
22 Dec 2010
BE-Haine-Saint-Paul-JOLIMONT
01 Nov 2012
BE-Brussel-UZBRUSSEL
01 Nov 2012
BE-Charleroi-GHDC
01 Nov 2012
NL-Amersfoort-MEANDERMC
13 Jan 2010
NL-Maastricht-MUMC
26 Jan 2010
NL-Leiden-LUMC
14 May 2009
BE-Roeselare-AZDELTA
01 Nov 2012
BE-Bruxelles-STLUC
22 Dec 2010
BE-Leuven-UZLEUVEN
01 Nov 2012
BE-Antwerpen-ZNAMIDDELHEIM
01 Nov 2012
BE-Antwerpen-ZNASTUIVENBERG
01 Nov 2012
NL-Amsterdam-AMC
21 Apr 2009
NL-Rotterdam-EMCDANIEL
22 Sep 2009
NL-Rotterdam-ERASMUSMC
19 Aug 2009
NL-Den Haag-HAGA
22 Sep 2009
NL-Zwolle-ISALA
21 Apr 2009
BE-Ottignies-CSPO
22 Dec 2010
= Active hospitals
= Inactive hospitals