Main info
Identifier:

HO900 NHL

Sponsor:

HOVON

Working group party:

Lymphoma

Age:

>= 18

Echelon:

Level D

Included patients:

Active sites:

Title:

A national MYC screening study for newly diagnosed DLBCL patients.
Timeline
2019
19 Jun
ClosedForInclusionActualStart
2020
27 Feb
CloseoutInProgressLastPtOutActualStart
News
The HOVON 900 DLBCL study is now closed for inclusion.
Flow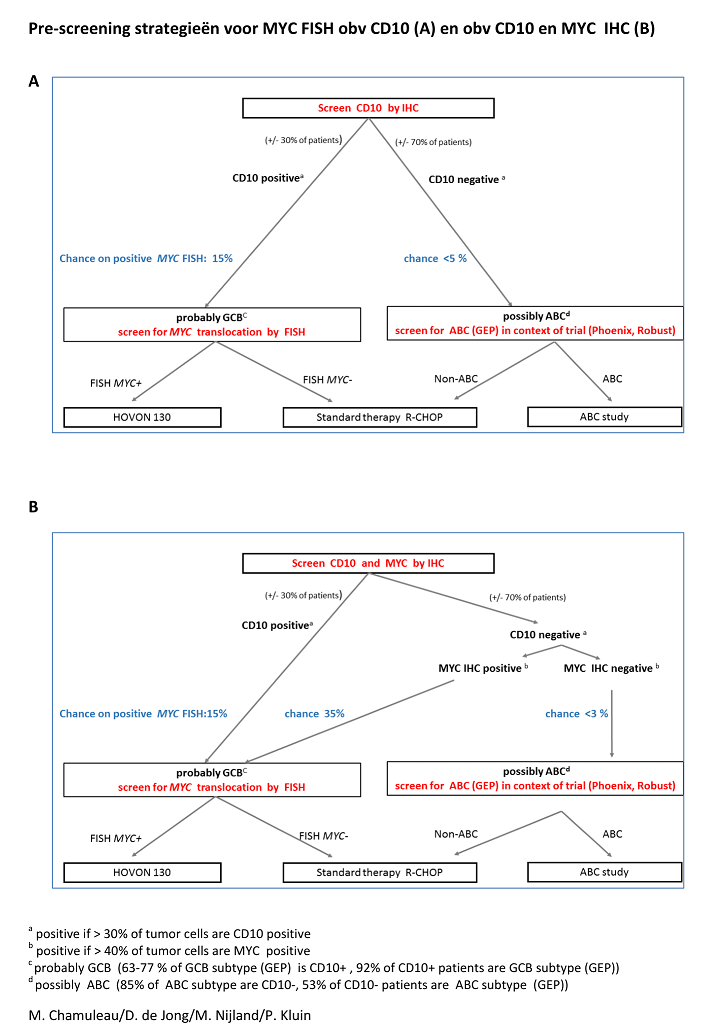 Details
Phase:

Select:

Monitoring Type:

Objectives:

The primary objective is to effectively identify patients who have a MYC rearrangement, to collect anonymized data of all DLBCL patients (MYC positive and negative) for epidemiological studies and to install a virtual tissue bank for future comparative MYC-related biological research.
Eligibility
Inclusion Criteria:

All patients diagnosed with newly diagnosed DLBCL according to WHO 2016. (patients with transformed follicular lymphoma are not eligible)
Age ≥ 18 years
Within 8 weeks after the diagnosis of DLBCL

Exclusion Criteria:

NA
Registration Details
Eligible patients should be registered before start of treatment. Patients need to be registered at the HOVON Data Center by one of the following options:
By ALEA; Use goto eCRF button > select the [Patient tab] and click the [Add new patient] button. Complete all items and click the [Submit] button
By faxing the completed registration/randomization CRF +31 (0)10 704 1028 Monday through Friday, from 09:00 to 17:00 CET
By phone +31 (0)10 704 1560 Monday through Friday, from 09:00 to 17:00 CET
The following information will be requested at registration:
Protocol number
Institution name
Name of caller/responsible investigator
Local patient code (optional)
Sex
Date of birth (or partial date of birth if date of birth not allowed, e.g.01/01/YOB)
Date written informed consent
Specific items for which this patient gives consent (see ICF)
Date of diagnosis
Diagnosis (DLBCL)
Name of the local pathology laboratory
Local pathology registration number
Participating Sites
Ziekenhuizen die deelnemen aan het onderzoek staan benoemd op de HOVON website bij het onderzoek. Het kan zijn dat uw ziekenhuis niet genoemd wordt, maar wel aan het onderzoek deelneemt. Informeer hiernaar bij uw arts.
Site
64 results
Order by
Accrual rate
Activation date
NL-Rotterdam-MAASSTADZIEKENHUIS
25 Aug 2015
NL-Dordrecht-ASZ
13 Aug 2015
NL-Breda-AMPHIA
30 Jul 2015
NL-Nieuwegein-ANTONIUS
17 Mar 2016
NL-Den Bosch-JBZ
23 Feb 2016
NL-Hoofddorp-SPAARNEGASTHUIS
26 Aug 2015
NL-Zwolle-ISALA
16 Sep 2015
NL-Rotterdam-SFG
16 Sep 2015
NL-Schiedam-FRANCISCUSVLIETLAND
10 Aug 2015
NL-Groningen-UMCG
14 Jul 2015
NL-Eindhoven-CATHARINA
24 Jul 2018
NL-Den Haag-HAGA
16 Nov 2015
NL-Utrecht-DIAKONESSENUTRECHT
02 Mar 2017
NL-Uden-BERNHOVEN
11 Jan 2016
NL-Capelle a/d IJssel-YSL
09 Jun 2016
NL-Roermond-LZR
22 Oct 2015
NL-Gouda-GROENEHART
16 Feb 2016
NL-Amersfoort-MEANDERMC
28 Jul 2015
NL-Rotterdam-IKAZIA
25 Aug 2015
NL-Tilburg-ETZ
18 Sep 2015
NL-Hardenberg-SAXENBURGH
01 Sep 2015
NL-Almelo-ZGTALMELO
22 Mar 2016
NL-Zutphen-GELREZUTPHEN
20 Oct 2015
NL-Delft-RDGG
16 Mar 2016
NL-Nijmegen-CWZ
01 Mar 2016
NL-Harderwijk-STJANSDALHARDERWIJK
12 Aug 2015
NL-Gorinchem-BEATRIX
30 Sep 2015
NL-Beverwijk-RKZ
26 Oct 2016
NL-Zaandam-ZAANSMC
30 Dec 2015
NL-Amsterdam-OLVG
08 Mar 2016
NL-Amsterdam-VUMC
17 Aug 2015
NL-Deventer-DZ
13 Aug 2015
NL-Doetinchem-SLINGELAND
24 Dec 2015
NL-Nijmegen-RADBOUDUMC
14 Jan 2016
NL-Dirksland-VANWEELBETHESDA
09 Nov 2015
NL-Hoogeveen-TRENTBETHESDA
29 Jul 2015
NL-Enschede-MST
16 Feb 2016
NL-Leeuwarden-MCL
12 Feb 2016
NL-Terneuzen-ZORGSAAM
09 Nov 2015
NL-Tiel-RIVIERENLAND
12 Aug 2015
NL-Amsterdam-AVL
27 Aug 2015
NL-Utrecht-UMCUTRECHT
15 Jul 2015
NL-Hoorn-DIJKLANDERHOORN
11 Dec 2018
NL-Rotterdam-ERASMUSMC
27 Aug 2015
NL-Emmen-SCHEPER
11 Nov 2015
NL-Heerenveen-TJONGERSCHANS
31 Aug 2015
NL-Hilversum-TERGOOI
27 Jul 2015
NL-Rotterdam-EMCDANIEL
27 Aug 2015
NL-Helmond-ELKERLIEK
14 Feb 2017
NL-Leiderdorp-ALRIJNELEIDERDORP
05 Aug 2016
NL-Apeldoorn-GELREAPELDOORN
10 Sep 2015
NL-Venlo-VIECURI
07 Oct 2015
NL-Alkmaar-NWZ
19 Jan 2017
NL-Hengelo-ZGTHENGELO
22 Mar 2016
NL-Drachten-NIJSMELLINGHE
06 Nov 2017
NL-Leiden-LUMC
28 Jul 2015
NL-Purmerend-DIJKLANDERPURMEREND
19 Jan 2016
NL-Eindhoven-MAXIMAMC
26 Aug 2015
NL-Amsterdam-SLAZLUCAS
14 Jul 2015
NL-Sneek-ANTONIUSSNEEK
28 Jul 2015
= Active hospitals
= Inactive hospitals